The city of Fishers is considering a proposal for a $76.4 million multipurpose sports and entertainment facility near the Lake District at the Saxony Village.
The proposal includes a 4,200-square-foot arena, 245,000-square-foot fieldhouse with 12 basketball courts and 600-space parking garage near 136th and Olio Road. The facility would provide space for amateur and professional sports with the capability of hosting hard-court or turf sports. (Click on image below for a larger versions.)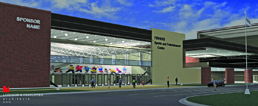 Under the plan, the facility would be owned and operated by GK Sports and Entertainment, but the city of Fishers would enter into a 20-year lease for specific usage rights. The lease would give the city access to the courts or turf fields from 3 p.m. to 9 p.m. Monday through Thursday through most of the year. That time would be reduced to 3.5 hours a day during summer months. In addition, the city woud receive community access to a walking and jogging track for six hours per day on weekdays.
The lease would cost $805,000 annually, which would be paid for with property taxes, park impact fees and ticket fees from tournaments.
GK Sports and Entertainment is a coalition led by Barry Kiesel, a partner at Noblesville-based GK Development.
Fishers plans to partner with the Southeastern Program of Recreational Team Sports, or SPORTS, to allow the youth recreational league to use the basketball courts during the school year. Additional time on the courts would be scheduled by the city's parks department.
"It would be great if we could have it seven days a week but we need to balance that with gaining revenue," Mayor Scott Fadness said.
A medical office, hotel and several big box retailers are also expected to be included in the development.
The project could mean an estimated $110 million in economic impact, according to a study by the Hamilton County Sports Corp. It's also expected to increase assessed value in the Saxony Village by $80 million.
The developer is pursuing a 10-year tax abatement for the arena and parking garage, and waiver of impact and permit fees for the entire project. The abatement will mean a 50-percent reduction in taxes annually and will total $2 million during the 10-year period. The waiver of fees would be worth about $800,000.
Fadness said he believes the facility will complement Westfield's Grand Park, which has 26 baseball and softball diamonds, 31 soccer fields and 10 miles of trails. Westfield invested more than $45 million in the sports campus in an effort to spur economic development.
The Westfield City Council also approved spending $25 million for a 371,000-square-foot indoor soccer facility to be built by Holladay Properties. The private developer is financing the project with a loan from the city that will be paid back over 25 years. With interest added, the total cost could be near $53 million.
There's also a $8.1 million privately funded 87,000-square-foot fieldhouse planned for Grand Park, which will include eight indoor courts that can be converted for multiple sports or have turf added to them.
Fadness said a recent survey of residents showed that 80 percent are willing to pay additional taxes for the city to provide an indoor sports complex.
"I think this was a unique opportunity where the private sector wanted to do something in the community," Fadness said. "It's got a lot of potential."
The Fishers City Council will discuss the project at its meeting April 20 and is expected to vote on it May 18.
Three public information sessions are scheduled to discuss the project—at 6 p.m. April 22 at Crosspoint Church, 13678 Silverstone Drive; at 6 p.m. April 30 at Launch Fishers, 7 Municipal Drive; and at 6 p.m. May 7 at the city of Fishers Auditorium, 1 Municipal Drive.
Please enable JavaScript to view this content.