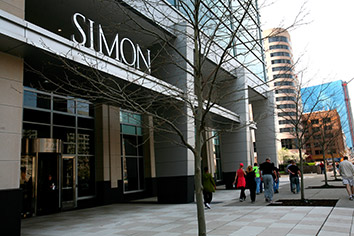 Sears Holdings Corp. has agreed to form a real-estate joint venture with Simon Property Group Inc. that will generate $114 million, the department-store chain's latest push to use its extensive properties to shore up its finances.
Sears will transfer 10 properties valued at $228 million to a company that it will own jointly with Indianapolis-based Simon, the companies said in a written statement Monday. A leaseback arrangement means Sears will continue to operate stores at the locations. Simon separately agreed to buy another Sears property at the La Plaza Mall in McAllen, Texas.
The move follows an announcement this month that Sears is forming a real estate investment trust to acquire about 254 of its properties, generating more than $2.5 billion in proceeds for the money-losing chain. Sears CEO Eddie Lampert also has sold and spun off assets, such as the Sears Hometown & Outlet Stores Inc. chain and the Lands' End brand. He's trying to turn the company into a leaner retailer, focused on generating sales from e-commerce and loyalty-program members.
The Simon deal is "an important step in Sears Holdings' continued transformation to a membership company, without the significant asset intensity of its traditional retail business," Lampert, who also is Sears's biggest shareholder, said in Monday's statement.
Sears stock was up 1.5 percent, to $43.51 per share, in morning trading. The shares had gained 30 percent this year through the end of last week, rebounding from a decline in 2014.
Sears has previously tried to squeeze more value out of its real estate holdings by selling locations, leasing space to other retailers and developing properties. The REIT was applauded by investors, who bid the shares up 31 percent when Sears announced in November that it was exploring the possibility.
The Simon agreement gives the new joint venture the power to redevelop the 10 contributed properties and lease space to other parties, potentially creating another source of revenue. The retailer expects its new REIT, Seritage Growth Properties, to purchase Sears's 50-percent interest in the venture. Simon also will invest about $33 million in Seritage shares through a private placement.
"Sears Holdings will continue to operate these 10 stores and there will be minimal impact on their day-to-day operations or the overall shopping experience for our members," Lampert said.
Please enable JavaScript to view this content.