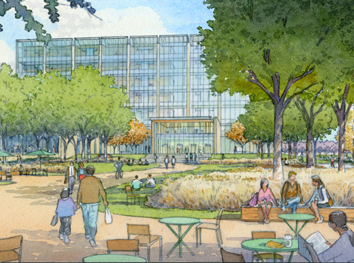 The Indy Chamber and a west-side neighborhood group are urging the City-County Council to approve a new criminal justice center, which they see as a catalyst for redevelopment.
The endorsements come as the council's Rules and Public Policy Committee is scheduled to meet Tuesday evening and vote on a $1.6 billion public-private agreement for the complex between the city and WMB Heartland Justice Partners. The committee is expected to forward the proposal to the full council for a vote on April 20.
"The need for Indy's new justice center is unquestionable, and we encourage the City-County Council to support this plan as it will have a transformational impact on our city's urban core," Indy Chamber CEO Michael Huber said in a prepared statement released Tuesday morning.
"Throughout the debate, the Indy Chamber has echoed the call for swift, yet thoughtful action to move forward and spur much needed investment in and redevelopment of the brownfield site of the former GM Stamping Plant as well as downtown's near east side," Huber said. "The proposed justice center does just that while focusing on the importance of increasing the quality of life for residents and consolidating critical public safety services."
The project would transplant and consolidate courts, jails and related criminal justice services and agencies from several locations on the near-east side of downtown to the former GM stamping plant site across White River on downtown's far-west edge.
The chamber endorsement was perhaps more expected than one received from the West Indianapolis Development Corp. Residents in the area represented by WIDC initially worried that the new jail and courthouse would bring a constant flow of undesirable traffic.
Now WIDC is convinced the project could bring jobs and goods and services that otherwise wouldn't move into such low-income neighborhoods.
"The Justice Center with its 2,500 employees and visitors daily will have a greater impact on the neighborhood than the 7,000 employees at the Lilly Technology Center," West Indianapolis Executive Director Jeff Gearhart and Chairwoman Kimberly Andersen said in a letter that was circulated to council members last week.
The Democrat-majority council hasn't taken an official position on the project, but Democratic mayoral candidate, former U.S. Attorney Joe Hogsett, came out last week in favor of delaying it. In addition, there are several Republican holdouts.
One is councilor Ben Hunter, who told IBJ last week that he's unconvinced the city can find enough savings in public-safety operations to ensure the new facilities won't require new sources of revenue. He's most skeptical about the cost of arrestee medical care, which Mayor Greg Ballard's administration believes can be reduced.
Hunter suggested a plan could wait another year. "Are we in such a crisis we have to solve it in 12, 14 months," he said, "Or do we have to solve it in two weeks?"
Please enable JavaScript to view this content.