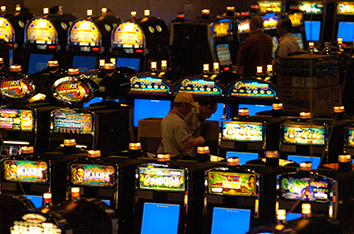 A key lawmaker says he'll seek a compromise on a gambling bill before he puts it up for a final vote.
Rep. Tom Dermody, R-LaPorte, said Indiana lawmakers "need a little more time" to make sure the legislation is in the right shape before it goes to Gov. Mike Pence for consideration.
As the bill passed the House, it would have authorized riverboat gambling operations to rebuild on land, let horse track casinos in Anderson and Shelbyville have live dealers, and created a new tax credit for investments at casino properties.
As later passed by the Senate, the bill still lets riverboat casinos move onto land but postpones the live dealers for five years. The Senate plan doesn't include the investment tax credit.
"I certainly felt good how it came out of the House," Dermody said of the bill he authored. "I look forward to compromise discussion."
The bill will move to a joint House-Senate conference committee where members will try to strike a deal that can be passed by both chambers by midnight April 29.
The legislation is meant to help the casino industry in Indiana compete with out-of-state gambling options, particularly in Ohio and Illinois.
The live dealers have been the key sticking point in the bill. Currently, the state's two horse track casinos only allow electronic table games, in which a player gambles at a digital station that's made to feel somewhat like a live game.
Those casinos said they could compete more easily and create jobs if they were allowed to use live dealers instead. Some of the state's smaller casinos, however, have said that will hurt their business because central Indiana residents will no longer have to drive to other areas for the live experience.
Pence has said he opposes an expansion of gambling. Key legislators have said the Republican is OK with letting riverboat casinos move onto land but considers live dealers an expansion.
Still, Dermody said he's not sure whether the bill can pass the House without making live dealers available to the Shelbyville and Anderson casinos immediately.
Please enable JavaScript to view this content.