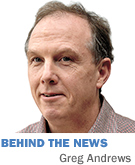 NEW YORK—Forget everything you think you know about annual meetings—boring, quick and devoid of surprises. The annual confabs for Biglari Holdings Inc., parent of Indianapolis-based Steak n Shake, are nothing like that.

The latest meeting, at a New York hotel on April 9, featured an extra dose of drama, thanks to a Minneapolis-based investment firm's high-profile quest to oust CEO Sardar Biglari and the company's five other directors. Moments into the meeting, the company announced the campaign had fallen short and that all incumbents had won re-election.

But anyone who figured the rest of the meeting would be a snoozer doesn't know Biglari, a sharp-tongued, unconventional entrepreneur who has emerged as one of the most polarizing executives in corporate America.

As he does every year, Biglari fielded questions from shareholders until they ran out of things to ask. He talked about the smallest details of the company's businesses, from the way Steak n Shake makes its milkshakes to the number of ad pages its men's magazine, Maxim, sells. The Q&A session ran more than five hours.

And his answers were anything but boilerplate. For example, when an investor asked whether this year's proxy battle—spurred by what activists called egregious corporate governance practices—would lead him to do things differently in the future, he bashed the attackers as being clueless.

Biglari
"There are more idiots in the stock market than I previously thought," Biglari said. "And I had low expectations."

Biglari, 37, a Warren Buffett devotee from San Antonio, has created a trail of enemies since gaining control of Indianapolis-based Steak n Shake in 2008, following his own activist campaign. He renamed the company for himself and turned it into a holding company. In addition to the burger chain and Maxim, it owns Western Sizzlin, an insurance company and a 20-percent stake in Cracker Barrel.

But Biglari also has a legion of true believers who say he has unique ability to create value. They point to the Midas touch he's exhibited at Steak n Shake, where a drastic reduction in menu prices caused customer counts to surge.

The chain, which had weathered 13 consecutive quarters of declining same-store sales before his arrival, now is on a run of 25 straight quarters of increasing sales. As Biglari explained to the 100-plus shareholders at the meeting, "Most of the industry does not want to admit there is causality between price and traffic."

Biglari also has scored big with Cracker Barrel. The $241 million he plowed into the Tennessee-based company's stock in 2011 and 2012 has swelled in value to more than $673 million.

But Cracker Barrel Chief Financial Officer Larry Hyatt, who attended the shareholder meeting, has weathered enough blistering attacks from Biglari to know he wasn't likely to get a pat on the back when Biglari coaxed him to the microphone.

Indeed, Biglari told Hyatt that Cracker Barrel's "fundamentals must improve significantly," since per-store profitability remains well below where it was before founder Dan Evins retired more than a decade ago.

Biglari also questioned the company's decision to launch a counter-service-only concept—a push aimed at capturing customers who now flock to such trendy eateries as Chipotle and Panera Bread.

"I don't get it," Biglari told Hyatt, calling it a "side project" that distracted from the important task of improving Cracker Barrel's core business.

And those comments were mild compared with what Biglari has said previously about Cracker Barrel leadership, whom he likened to "Chihuahuas" at the Biglari Holdings annual meeting a year ago.

Such abrasiveness is not inconsequential, said Russell Newsom, a shareholder from Cincinnati who attended this year's meeting. So many people don't like Biglari that it actually depresses the company's stock price, said Newsom, who runs the Bruin Fund hedge fund.

Biglari has drawn critics for numerous reasons, including his hedge-fund-style compensation, his hard-line stance against giving Steak n Shake franchisees pricing flexibility, and a controversial deal under which he licensed his name to the company for 20 years. But much of it comes down to personality.

"People find him toxic," Newsom said. "They are so turned off by him they won't invest in the company at any price."

Yet it's partly because of that "Biglari discount" that Newsom is high on the stock. Just cash on hand plus the value of the Cracker Barrel shares exceed the company's $720 million stock market value. Newsom said that means investors are getting Steak n Shake—a chain of 416 company-owned and 124 franchised eateries that earned $26.5 million last fiscal year—for nothing.

"There are so few values in the market," Newsom said. "Everything is fairly priced. And then you find this company that is so undervalued—not by a little but by a lot."•