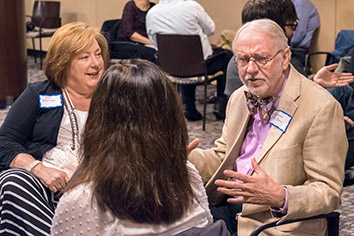 Donald Davis wasn't minding his own business.
Instead, he was asking people about their businesses. And listening intently.
A regular performer at the National Storytelling Festival in Jonesborough, Tennessee, and one of the most in-demand artists on the storytelling circuit, the soft-spoken, North Carolina-drawled Davis was conducting the first of a trio of "The Story of Your Business and the Business of Your Story" workshops sponsored by Storytelling Arts of Indiana.
"I want you to think about places," Davis gently instructed the group of 25, representing such diverse groups as the Indiana Masonic Home, the Nature Conservancy, Hamilton County Tourism, the Indianapolis Public Library, and The Oaks Academy. "Think about jobs you've had while still in school. … Think about how you ended up working there, the people you knew, and why it came to an end. … And what did you learn from that place?"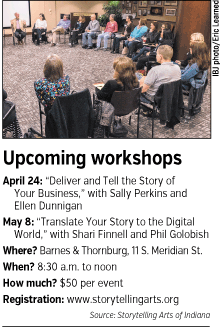 Soon, the conference room at Barnes & Thornburg was a cacophony of participants, in groups of three and four, sharing stories with one another—stories of summer camps and farms, of restaurants and filling stations. You could hear the memories flowing and Davis knew he had opened the tap. Once the group came back together, Davis challenged them to think about their current businesses and how the stories of the people behind them continue to affect both corporate culture and the bottom line.
Founded in 1988, Storytelling Arts is primarily known for its concerts featuring talent from around the country telling tales at the Indiana History Center, on the porch at Nickel Plate Arts in Noblesville, or on the grounds of Crown Hill Cemetery. It also runs the monthly Jabberwocky series in which non-professional storytellers share their own experiences.
Storytelling Arts Executive Director Ellen Munds sees these business-focused workshops as being well aligned with the organization's higher-profile public programming.
"At Storytelling Arts, we are trying to show people the power of story in all aspects of life," Munds said. "This was an area we hadn't touched on yet. 'Storytelling' is a business community buzzword, so we thought it would be good for us to try to get more storytellers working with businesses."
Davis' session on April 10 was called "Find and Design the Story of Your Business." Future business-themed workshops feature local storytellers Sally Perkins and Ellen Dunnigan ("Deliver and Tell the Story of Your Business" and Shari Finnell and Phil Golobish ("Translate Your Story to the Digital World").
Munds began planning the business series about a year ago, when she contacted Davis to book him for Storytelling Arts' annual benefit. In addition to that performance and a children's concert, she discussed options for a business-focused workshop, which grew into the series.
Early buy-in came from Printing Partners and Urology of Indiana, two companies, Munds said, that "have people already very involved with Storytelling Arts."
"A lot of the workshops I do are helping people discover the stories that are in them that they don't realize are there," said Davis, a retired Methodist minister. "An organization has already been operated by a story, which is often unknown, especially by recently hired employees. A lot of what we are doing is discovering that story. Are there pieces of that we need to get rid of? Are there pieces we lost and need to bring back again?
"Part of what we are looking at that's really, really important," Davis added, "is how retelling the story doesn't change what happened. But retelling the story does have the power to change our relationship to what happened. It gives us power over the story. When we don't know the story, we don't have that power."
Understanding a company's history, Davis said, can be a basis for advertising, for employee information, and for recruiting. "We tend to interview in terms of task and not in terms of relationships," he said. "You can find a person who is a perfect fit for the task but not for the company."

Davis hopes the workshop attendees learn to better appreciate the personal stories of their fellow workers.
"I've learned that in every system … two things need to be in balance. One thing they have to be able to do is understand the task and be able to perform that task with confidence. The other is to be able to turn their back on task and take care of one another when the time calls for it.
"My sense from doing this for all these years is that, when a group comes apart, it's almost never because they've failed with a task. It's almost always because they failed in knowing when it's time to turn and take care of each other."
What kind of businesspeople are more likely to be interested in participating in such workshops?
"Intelligent ones," Davis said. "People who look long term."•
Please enable JavaScript to view this content.