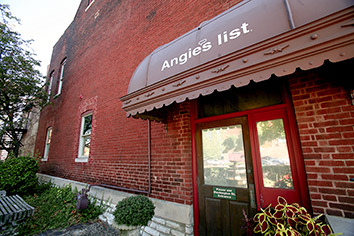 Angie's List Inc. shares saw double-digit percentage gains Wednesday morning after the company reported a surprise profit in the first quarter—the first time it's put together back-to-back profitable quarters since its November 2011 initial public offering.
The Indianapolis-based consumer-services ratings firm reported earnings of $4.36 million, or 7 cents a share, in the first quarter ended March 1. Analysts had predicted a break-even quarter. The company lost $3.78 million in the same period last year, or 6 cents a share.
Profitability was boosted as the company scaled back marketing expenses and continued to see strong service-provider revenue. The company slashed marketing spending by $7.2 million, or 31 percent, to $16.3 million compared with the year-ago period and saw service-provider revenue surge 22 percent, to $66.2 million.
Shares rose to about $7 a share early Wednesday, up 13 percent for the day.
The company has rarely generated profitable quarters, let alone a string of them. Its public earnings reports cover 18 quarters since the fourth quarter of 2010, and the latest two mark its first consecutive profitable quarters.
Angie's List has seen positive earnings in three of the last six quarters. Before that, it was 1-for-12.
"We had a positive start to the year," Angie's List CEO Bill Oesterle said in prepared remarks. "We strengthened the foundation of our marketplace by adding inventory and growing gross merchandise value. Further, we improved our efficiency with respect to membership acquisition, enhanced service-provider sales efficiency and delivered leverage in key expense line items."
While first-quarter revenue missed Wall Street expectations, it was still higher than the year ago-period. Revenue grew 15 percent, to $83.5 million, fueled mostly by service providers, who advertise and pay fees for e-commerce offerings on the site. Analysts had predicted revenue of $84.8 million.
Angie's List's revenue has grown every quarter since the final period in 2010 when it brought in $16.1 million.
Despite the quarterly highlights, the company continues to face challenges related to its shift from a consumer reviews site to a marketplace site founded on robust service-provider income. The change comes as Amazon grows its local services and deals portal and Google reportedly prepares to launch one of its own.
Asked about the competitive landscape during Wednesday morning's earnings call with analysts, Oesterle said: "This marketplace is like the vastness of the ocean, so we're not running into them from a competitive standpoint at all. Now, they are formidable competitors, and over the long term we have to have the best product and services in the marketplace."
Angie's List has 3.1 million paying members, but growth there has been weakening as the company slows marketing. It added 230,000 members in the latest quarter, down 20 percent from the year-ago period. It was the third straight quarter of year-over-year new-member erosion.
Meanwhile, the firm has been promoting its marketplace site to non-paying members, allowing them to get deals on plumbing repair jobs and similar services. It's effectively selling its entire consumer pool to service providers, who have traditionally paid a fee for each transaction. Lately, the company is shifting toward a subscription model in which service providers pay monthly for an unlimited number of transactions.
As Angie's List appears to be turning the tide on profitability, it's unlikely Oesterle will be around for many more of them as CEO. He announced last week he was stepping down after leading the company since 1999 to be more "civically involved." In the earnings call, he touched on what the company is seeking in a successor.
"Broadly, we're going to be looking for someone who has a deep understanding of consumer and small-business marketing," he said, "and has the technological chops to be able to deal with evolving technologies."
Please enable JavaScript to view this content.