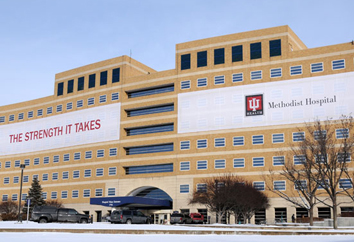 Indiana University Health announced Friday that it will close its University Hospital and consolidate its operations into expanded facilities at its Methodist and Riley campuses.
The $1 billion project will take five to seven years to complete, during which time University Hospital will remain open to patients. After clinical services move to the Methodist campus, it is possible that University could re-open as a post-acute or rehabilitation hospital, according to IU Health officials.
The expanded campus at Methodist, located at 16th Street and Capitol Avenue, will include space for classrooms and faculty offices for the Indiana University School of Medicine, which will split its campus between that location and IUPUI.
The decision was recommended by IU Health's management after an 18-month review process. It was approved Thursday night by the IU Health board.
IU Health officials said the oldest buildings on the Methodist campus would be torn down and new facilities focused on serving walk-in patients would be built.
"This is a gigantic project," said IU Health CEO Dan Evans during a conference call with reporters. "This is on a par with the airport, Eskenazi. It's a major public works project."
IBJ reported in January that IU Health management had been recommending a consoliation at Methodist as the best option to make its downtown hospitals more efficient.
This story will be updated.
Please enable JavaScript to view this content.