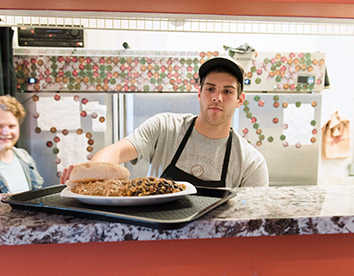 Patrons of the original Yats at East 54th Street and College Avenue probably don't realize they're experiencing one of the hottest concepts in restaurant franchising.
Customers at the tiny, hole-in-the-wall operation, which opened in 2001, belly up to a service counter; order from a chalkboard menu listing the day's gumbos, jambalayas and other Creole and Cajun-Creole creations; then either eat at a small clutch of tables or take their food and leave.
It sounds quaint and rustic, but it's actually a state-of-the-art service model that's known in the industry as fast-casual dining. Small location, no wait staff, limited seating. It's taking the industry by storm, and the folks at Yats want to use it to expand.
"A lot of operators are trying to turn themselves into fast-casual operations," said Regina Vuskovich, wife of Yats founder (and head chef) Joe Vuskovich. "Well, we've always been fast-casual. This was our concept from the beginning."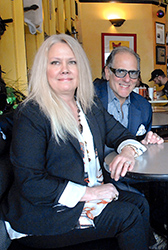 Regina and Joe Vuskovich are expanding the Yats concept through company-owned stores and franchises. (IBJ file photo)
As CEO of Roux Nation LLC, the company responsible for both the original Yats and its growing gaggle of corporate-owned and franchised spinoffs, it's up to Regina to make that happen. And it seems to be happening quickly. The company, which began its franchise program in 2012, already boasts six company-owned and six franchised locations.
Another franchised outpost is slated to open this month in Nashville, Tennessee. Meanwhile, a company-owned store will open this month at West 86th Street and Ditch Road, and another is scheduled to open in August near the University of Notre Dame.
While the Vuskoviches are eager for growth, they aren't exactly hell-bent on franchising. Perhaps a bit unusually, they don't advertise in trade publications for potential franchisees.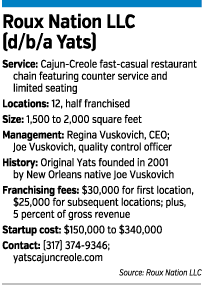 "I would like to have a greater percentage of corporate-owned stores versus franchises," Regina said. "So I'm growing the franchising very slowly. I turn down people all the time. The protection of the brand is the big thing. I feel like you have more control when you own the store."
Retaining control
That cagey attitude toward outside money (and influence) might sound parochial and quaint. But according to industry experts, it's common in the fast-casual niche.
It's an odd development, given that the fast-food industry was built on franchising. For instance, in 2014, McDonald's Corp. brought in $35.6 billion in sales at its franchise stores. Add together franchisee sales at the nation's top 50 food chains and you get a figure of around $150 billion. But these days, going the franchising route isn't a slam dunk. Especially for small operators concerned about maintaining corporate oversight.
"Traditional fast-food brands grew primarily on the franchising model, but that's all changing now," said Sam Oches, editor of QSR Magazine, a trade publication covering the quick-service and fast-casual restaurant industry. "A lot of operators want control of their brands. Once you franchise, you're losing some of that control."
Smaller operators are particularly enamored with the strategy followed by Chipotle Mexican Grill, which has expanded via direct corporate ownership of all of its more than 1,700 locations.
"A lot of the upstart fast-casuals with less than 100 restaurants are seeing what Chipotle's been able to accomplish and want to replicate that," Oches said.
Those little guys have prospered while bigger, sit-down chains such as Red Lobster and Olive Garden have stagnated.
"The top fast-casual operators include Chipotle and Qdoba," said Steve Delaney, a principal and restaurant expert at the locally based Sitehawk Retail Real Estate brokerage. "They're all smaller, maybe 2,000- to 3,000-square-foot restaurants. They don't have the massive overhead of large, sit-down establishments."
Not that the fast-casuals have it easy. Competition abounds. And smaller players like Yats have the additional challenge of having to make do with skimpy financial resources.
On the bright side, it's not like Yats sells pizza or some other common-and-garden-variety foodstuff that faces dozens of lookalike rivals.
"They have a very unique category," Delaney said. "They probably distinguish themselves because there are very, very few players in that particular segment. They've distinguished themselves by having a unique product and also, I think, a very, very good one."
Quality control
The job of keeping the food up to snuff naturally falls to Joe Vuskovich, who's spent the last couple of years obsessively tinkering with and scaling up his recipes, so that a bowl of his jambalaya tastes the same in Columbus, Indiana, as it does in Columbus, Ohio.
Cooking on an industrial scale requires the services of Louisville-based Custom Food Solutions, which makes the Yats menu items and distributes them to the various corporate-owned and franchised Yats locations.
Even the original College Avenue location serves Custom Food Solutions products, though Joe still regularly uses the kitchen to formulate new dishes. Regina refers to the eatery as his "test kitchen."
"When you change from doing 40 gallons to 300 or 400 gallons at a time, it's a big switch," Joe said. "I'm still grappling with the gumbo. It's the essence of Creole cooking, and it's the hardest one to nail."
Jiggering the recipes might be tough, but that's pretty much the only difficult thing about Yats' food preparation. One of the chain's strongest selling points—and the reason it's a relatively low-priced franchise—is that you don't need a full kitchen to serve its food. Most dishes require only reheating, which means franchisees don't need expensive ovens, smoke-draining hoods, deep fryers or grills.
And since franchised locations are typically no bigger than the original Yats, real estate prices are reasonable, too. Regina estimated startup costs for a new location at a couple of hundred thousand dollars. Sometimes as low as $150,000. That's a remarkable number in an industry where a new restaurant typically costs anywhere from $200,000 to $1 million.
"We're very simple," Regina said. "We don't have fryers or grills or ovens. We don't need prep cooks. We just need really great people to take care of the food. Joe's our chef, and he's done all the work for us."
Nevertheless, it hasn't all been wine and roses and chorizo étouffée. A franchised store in Cincinnati went out of business last year, and back in the mid-2000s, corporate-owned locations in West Lafayette and Brownsburg failed. And Regina underestimated the difficulty of things such as putting together operations manuals. Having deep experience in the business, she'd leave out steps that seemed too elemental to include.
"People don't know what I know, and it's taken me a while to realize that," she said. "Things come easily to me because I've opened so many restaurants. But this is a brand-new experience for some people."
For the moment, she'd like to keep new Yats locations within a four-hour drive of Indianapolis, so she or a staffer can get there quickly, if necessary, to help iron out any teething problems. She said the soon-to-open Nashville location falls just inside that range.
Finding franchisees
To no surprise, when it comes to franchisees, she gravitates toward people with food-service experience.
Currently, the only out-of-state Yats is in Columbus, Ohio. It's owned by brothers Jason and Michael O'Rourke. Michael, a food-industry veteran and former Indianapolis resident, was smitten by the original 54th and College Yats and asked about managing one of the corporate stores. He was told all those positions were taken, but that he might be interested in franchising. He and his brother snapped up the offer, purchasing the rights to open three shops in Columbus. The first opened its doors last July.
"We're the farthest store from Indianapolis, so we don't have quite the name cachet that the stores in Fishers and Noblesville have," Jason said. "But we actually have a line at 11 o'clock when we open."
The brothers are helped by the fact that a Yats is much simpler to run than a typical eatery. Usually, they need only two staffers—three for peak times. They're shopping around for a second location.
We're just trying to figure out where to go from here," Jason said.
As for Regina, she plans to continue her go-slow approach to franchising. Though she wouldn't mind finding a deep-pocketed, skilled restaurateur who wants to take Yats into a major market in a big way.
"If somebody came to me and said, 'I want to do Atlanta,' and they really knew what they were doing and I got along really well with them, I wouldn't mind doing that," she said. "But it's not something I'm actively pursuing right now."•
Please enable JavaScript to view this content.