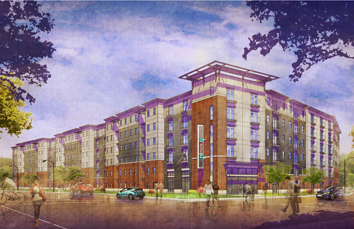 A locally based developer is seeking to build a $32 million apartment project near the downtown IUPUI campus as demand for student housing keeps growing.
Annex Student Living LLC is proposing to build a six-story, 248-unit building along West 10th Street just west of the White River. The company has agreed to buy the nearly four-acre parcel pending approval from the city to rezone the property.
Construction could start late this summer and should be finished before the start of the fall 2016 semester.
The project, called The Annex on 10th, will offer studio apartments, as well as two- and four-bedroom units, priced from $500 to $950 per bed per month, Annex CEO Kyle Bach said. A total of 535 beds will be available.
Annex is assembling the property at 1717 W. 10th St. from two separate owners. The American Wire Rope & Sling manufacturing plant occupies the northern piece. The southern portion is vacant land controlled by a private owner.
Annex late last year began scouting locations near IUPUI for a student-housing development. Neither of the two parcels was on the market, Bach said, but Annex ultimately came to terms with each owner.
"We believe in the west side of the river," he said. "New York and Michigan will be two-way streets, and other improvements are coming there."
The Indianapolis Metropolitan Development Commission last summer approved $10 million in downtown tax-increment financing funds to pay for street improvements on the IUPUI campus, including the conversion of Michigan and New York streets into two-way streets from West Street through the campus and across the bridge into the Haughville neighborhood.
Local Initiatives Support Corp. announced in November that it would funnel private-sector investments into three neighborhoods over the next six years under an initiative known as Great Places 2020. One of the intersections is at West Michigan Street and King Avenue, about a half-mile west from where Annex plans to build.
Several student-housing developments targeting IUPUI student have been built, or are in the planning stages, as IUPUI transitions away from being a commuter school. But The Annex at 10th is the only one slated to be built west of the White River.
"We hope to serve as that pioneering project, if you will, to help redevelop that area," he said.
To the north, Core Development repurposed the old Bush Stadium for its Stadium Lofts project, and built the adjacent Stadium Flats, both of which have attracted a mix of residents, including students.
Student-housing projects also include 9 on Canal along the Central Canal, in addition to the Avenue and 1201 Indiana near West 10th Street and Indiana Avenue.
And West Lafayette-based Trinitas Ventures is preparing to spend $40 million to build an 11-story apartment and retail project at the northeast corner of Michigan Street and Capitol Avenue. The project calls for 193 units and up to 7,000 square feet of small-shop space.
IUPUI itself also is racing to meet the housing demand. It announced in August plans to build a $45 million residence hall somewhere on campus to open in time for the 2016-2017 school year. And in 2013, it converted University Place Hotel into a 560-student residence hall.
Demand for student housing is growing, partly to accommodate those who can't afford the higher rents downtown demands for traditional apartments, said Amy Burmeister, senior vice president of investment properties at Summit Realty Group.
"As the rents rise, the undergrads can't afford it, so they have to go to the by-the-bed product," she said.
The designer of The Annex at 10th is CSO Architects.    
Annex Student Living's request to rezone the properties is set to be heard by the Metropolitan Development Commission's hearing examiner on May 14.
Bach founded Annex Student Living in 2009. It had operated under parent Mecca Cos., an affordable housing developer, until Bach recently separated the companies.
Annex Student Living has developed 10 student-housing projects in Indiana and Ohio. Its largest, a 268-bed complex, is under construction at Murray State University in Murray, Kentucky.
 
Please enable JavaScript to view this content.