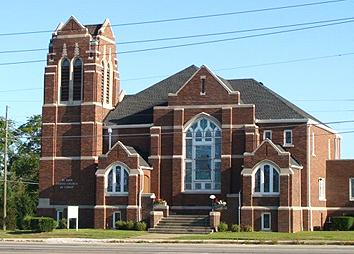 Giant Eagle Inc. has won the latest fight in its battle to demolish a historic church and build a gas station and convenience store on the property in the town of Cumberland.
Members of the Metropolitan Development Commission voted 4-2 Wednesday afternoon in favor of the Pittsburgh-based company's request to rezone the four-acre site with variances. The plan still requires approval from the City-County Council.
Giant Eagle agreed late last year to purchase the century-old St. John United Church of Christ at the northeast corner of Washington Street and German Church Road, contingent upon a favorable outcome from MDC.
Town officials, however, opposed the company's plans and mounted a fierce campaign to save the church by issuing a request for information to developers who might have interest in buying the property.
Only one developer toured the church and declined to submit an offer, the Rev. Jimmy Watson, who is serving as temporary pastor of the church, told MDC members Wednesday.
"This has been a very long and excruciating ordeal for the members of our church," he said to them.
Church leaders say the aging building needs at least $750,000 in repairs—money the dwindling congregation doesn't have. It's building a new and smaller church on part of a 50-acre tract the church owns at the northwest corner of East Prospect Street and Carroll Road.
Cumberland officials argued that a gas station and convenience store do not meet the recommendations of the area's comprehensive plan, which suggests institutional and residential uses for the property.
"It does not call for gas stations and convenience marts," said Mary Solada, an attorney representing the town. "In our view, there are crime problems associated with these uses."
Giant Eagle needed to present its request to rezone the property to the Indianapolis MDC because the town's borders are split between Hancock and Marion counties.
For about a century, the land in question has been the site of the Tudor Gothic Revival-style church, which once was known as Deutsche Evangelische St. Johannes Kirche. It opened in 1855, initially serving German immigrants who farmed the surrounding area. That structure was replaced later that century, and the current building opened in 1914.
 
Please enable JavaScript to view this content.