The runway at Indianapolis Metropolitan Airport in Fishers is set for an upgrade, and dozens of acres on the airport's perimeter might be developed for industrial and retail use—signaling a turning point in a long-simmering feud.

Fishers officials have tried for years to persuade the Indianapolis Airport Authority, which owns and operates the facility, to move the airport to Anderson or Noblesville. But city officials seem pleased with a compromise that could free up prime land for development, adding to the tax base.

Dillinger
"To sell an airport or do away with an airport is a major, major deal," said Hamilton County Commissioner and IAA board member Steve Dillinger. "It wasn't something that was going to happen overnight, anyways."

So, the airport stayed put.

"In between then and now, everything has kind of been in limbo," Fishers Mayor Scott Fadness said.

Fadness
Both sides now say they see potential for commercial development on about 60 acres of airport property that runs along East 96th Street, and a long-term plan for the airport supports such use.

The city would control the property targeted for development, though details still need to be hammered out.

"This is kind of a big turnover because we battled this for many years," Dillinger said.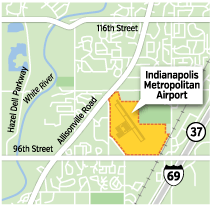 The city has no control over the airport's operations, and IAA has made it clear the facility will remain in Fishers, so Fadness has decided to make the best of it.

He said he'd like to see manufacturers locate on the property, to add variety to the city's tax base.

"It's much needed in our community," Fadness said. "People who make things find it really difficult to do that in Fishers. … If we could provide places for those guys, we want to see them in our community."

It wouldn't be the first time IAA has provided portions of land for development. In November, it put about 1,200 acres bordering Indianapolis International Airport on the market to bring in revenue and boost the tax base of surrounding communities.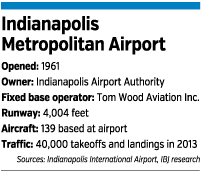 Metropolitan Airport is one of four facilities the airport authority runs to relieve pressure on Indianapolis International. The others are Indianapolis Regional Airport, in Hancock County; Eagle Creek Airpark, off West 38th Street just outside Interstate 465; and Hendricks County Airport, in Danville.

The IAA's 30-year strategic development plan, prepared in 2011, recommended commercial use around Metropolitan Airport. It said there was little room for aviation growth and the focus should stay on recreational and small corporate users.

"It really was looking at 96th Street and suggesting that [commercial development] could be a possibility," Hamilton County Economic Development Corp. President and CEO Tim Monger said. "It seemed like there was enough demand in the area that it could certainly be able to support additional retail."

Whether the city would lease or own the land hasn't been decided. Fadness estimated a plan could be finalized in six to 12 months.

"The good news is, there's a general consensus from everybody to work together," Fadness said. "It's a 180."

The airport authority has its own plans to renovate and slightly extend the airport's single 4,000-foot runway by 200 feet. The extra length has been in place, but not in usable condition. The rehabilitation project would fix that, and the longer runway would allow larger aircraft to land.

"To utilize and redo the runway so that the heavier jets can land there is what makes it economically viable for the city of Fishers and the county as well," Dillinger said.

IAA spokesman Jeff Dutton said the renovation would include milling and overlaying the existing runway and updating the lighting system. The runway was last overlaid in 1992 and widened in 1996, according to Dutton.

The runway lighting system was installed in the 1960s, and the taxiway lighting installed in 1987.

The project, still in design, would cost about $175,000, with 90 percent paid for by Federal Aviation Administration grant funds. The remaining 10 percent would come from airport capital improvement funds, but there's a possibility of 5 percent to be funded by a grant from the Indiana Department of Transportation.•