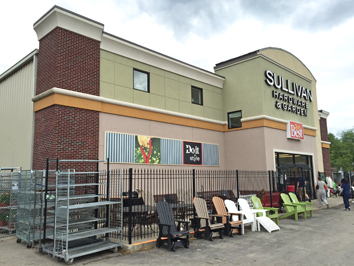 In an era dominated by big-box home-improvement retailers, Sullivan Hardware & Garden needs to keep growing to stay competitive.
Pat Sullivan, the second-generation owner of the three-store chain, is expanding his northeast-side location by buying up several homes near the East 71st Street and Keystone Avenue intersection.
"If you don't change, you're not going to survive," he said. "You have to find something you can do better than the box stores."
Sullivan, 54, is banking on a larger lawn and garden center to help drive business. He's in the process of doubling its size, to 60,000 square feet, by purchasing two rental homes along Keystone Avenue directly south of his store.
He bought another seven to the east of his store to expand his parking lot and staging area.
One of the homes along Keystone has been torn down and the one farthest south will be remodeled and used for do-it-yourself programs and seminars for much of the year. During the holidays, it will become the Santa House, where kids can visit Kris Kringle via a train ride from the store.
Sullivan is purchasing a "mall-sized" train from a Canadian outfit to transport the children.
"It's got to be an experience," he said of his store. "It's got to be fun to come here."
As part of the expansion, Sullivan also is building an outdoor kitchen and is seeking a beer and wine license for cooking classes. A fourth greenhouse will be added, too.
The project should be completed in the next six weeks, Sullivan said.
To the east, he bought seven rental houses along Tacoma Avenue and gobbled up their back yards to expand his parking lot and staging area by about 30 feet. Mulch bags and decorative rock and stone have been moved outside, enabling him to free up more space in the lawn and garden center for plants and flowers.
Overall, Sullivan spent about $900,000 to acquire the nine homes. He plans to invest another $700,000 on the expansion—an investment he thinks will be well worth the expense.
He hopes to ultimately grow the store's annual revenue from $6 million to $8 million and add six to eight employees to its current workforce of 60.
Sullivan Hardware also has a store at 49th and Pennsylvania streets and another in Cicero.
Sullivan assumed operations in 1990 from his father, Robert, who founded the company in 1954. The first store was on East Washington Street before it was moved in 1963 to 71st and Keystone. The current, larger store there was built in 2005 to keep pace with increasing competition from the big boxes.
Both of Sullivan's Indianapolis locations have felt the effects of the Lowe's Home Improvement store at Glendale—to the point where he stopped selling power tools because he simply couldn't compete with the bigger rival's prices.
"You try to pick parts of your business that you can do well with," Sullivan said. "We can't do power tools, but we can buy flowers from local greenhouses, and we can entertain better."
The Indianapolis-based North American Retail Hardware Association doesn't keep stats on the number of independent hardware stores in the United States. U.S. Economic Census data show the number fell by 854, to 12,122, as of 2007, the most recent stats available.
Sullivan Hardware is a member of the Fort Wayne-based Do-It-Best Corp. cooperative, allowing it and other independents to get better pricing from vendors.
 
Please enable JavaScript to view this content.