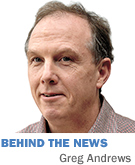 Angie's List could hardly be at more of a crossroads, with its longtime CEO departing, its massive east-side Indianapolis expansion withdrawn, and its business model undergoing a tectonic shift.
Analysts generally have positive words for CEO Bill Oesterle, who announced last month he would leave the company after it picks a successor. After all, Oesterle, 49, built a company with more than 3 million subscribers and more than $300 million in annual revenue.
Yet profitability has been elusive—the consumer-review firm has yet to end a year in the black. And competition in the business of connecting service providers with consumers is intensifying, as Amazon jumps into the game and reports swirl Google soon will follow.
So this headline of a recent RBC Capital Markets report fittingly reflects the mixed feelings: "CEO departure—A loss and a gain."
Barrington research analyst Jeff Houston dished out a similar sentiment: "We are certainly impressed with the business Mr. Oesterle has helped build over the past 20 years with Chief Marketing Officer Angie Hicks. However, we think it is the right time to make a change at the helm."
Houston said he's hoping for an "established Internet visionary," in line with Pandora's 2013 CEO pick of digital advertising luminary Brian McAndrews. He said the "position could be quite enticing for an Internet maverick seeking a challenge," though he fretted the Indianapolis headquarters "might turn off some high-caliber candidates who may overlook the city's numerous appealing aspects," including its emerging tech hub.

Oesterle
On last month's earnings call, Oesterle laid out a similar vision. "Broadly, we're going to be looking for someone who has a deep understanding of consumer and small-business marketing," he said, "and has the technological chops to be able to deal with evolving technologies."
Oesterle, one of the business community's most outspoken critics of the Religious Freedom Restoration Act, said in his resignation announcement that he wanted to become more "civically involved in the state of Indiana."
He revealed his departure plans just two weeks after Angie's List announced that because of RFRA it was putting on hold plans for a $40 million expansion of its east-side headquarters that was expected to create more than 1,000 jobs by the end of 2019.
On the earnings call, Oesterle said Angie's List is evaluating its options regarding the expansion and would provide an update when it knows more.
A lot to juggle
To be sure, managing change will be a hefty part of the new CEO's job.
The company has sharply cut back on marketing spending to attract new subscribers, which has had the mixed effect of boosting profitability but also slowing membership growth.
Membership revenue, in fact, is no longer the financial driver for Angie's List it once was. Back in 2008, three years before the company's initial public offering, membership sales accounted for almost half of revenue. The percentage has declined steadily since. In the latest quarter, service provider revenue—in the form of advertising contracts and e-commerce transaction fees—accounted for 79 percent of revenue.
Angie's List "has lowered membership pricing to expand its user base. We think this is the right long-term strategy as the service provider opportunity is the bigger prize and this grows with a larger membership base," MKM Partners Managing Director Rob Sanderson said in a report.
Indeed, to further entice service providers to jump aboard, Angie's List has begun offering deals on home services to non-members (who don't gain access to user reviews). Also available to non-members is its SnapFix app, which allows consumers to take photos of the needed repair or home improvement project. Angie's List then coordinates a highly rated provider to do the work.
Analysts say such broadened offerings help provide more of an Amazon-like shopping experience, though competing head to head with such a retailing heavyweight will not be for the timid.
On the conference call, Oesterle said Google and Amazon aren't yet having a noticeable impact in his business. But he's not taking them lightly.
"The marketplace is like the vastness of the ocean. So we are not running into them from a competitive standpoint at all," Oesterle said. "But … these are formidable competitors, and over the long term we have to have the best product, the best service in the marketplace."
MKM Partners' Sanderson said he thinks Angie's List is in the strongest position to win that battle. Even so, he's neutral on Angie's List shares, which fetch around $6.10, less than half their $13 IPO price.
He said he's taking a wait-and-see approach because "there are many unknowns, a major business model transition, and meaningful execution risk."•
Please enable JavaScript to view this content.