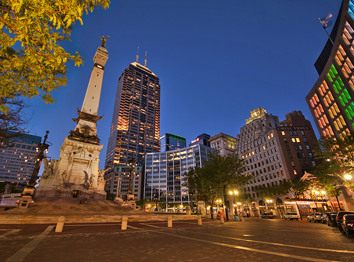 Officials are hoping to have repair work on the Soldiers and Sailors Monument in downtown Indianapolis completed by the end of June.
Scaffolding has been up around the lower levels of the 113-year-old limestone tower since last October as crews have been working to fix water leaks and damage to bolts holding the monument's bronze figures in place.
Indiana War Memorial Commission Director Stewart Goodwin told WIBC-FM that the bronze bolts have been replaced with some made from stainless steel, which should last longer.
Goodwin said the full cost of the repair work is still being added up.
Numerous repairs have been made to the Monument Circle landmark in recent years, most notably when the bronze sculpture atop the tower was taken down in 2011 for restoration work.
The current job is requiring more work than originally expected.
Please enable JavaScript to view this content.