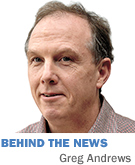 The name PricewaterhouseCoopers never appears in the harshly worded 56-page fraud lawsuit that the Securities and Exchange Commission filed this month against ITT Educational Services Inc. and its top two executives.

The accounting giant had served as the ITT's outside auditor for at least two decades before it abruptly announced last November it would step down, giving up some $1.5 million in fees a year.

The SEC refers to PwC only generically, as the company's "external auditor." But it's clear SEC investigators have had more than a few chats with employees of the accounting giant, whose telling of events apparently did no favors for the two ITT executives in the crosshairs, CEO Kevin Modany and Chief Financial Officer Daniel Fitzpatrick.

Modany
The suit broadly charges that Modany and Fitzpatrick concealed from investors the "extraordinary failure" of two off-balance-sheet student loan programs ITT helped set up six years ago after the financial crisis shut down the market for traditional private education loans.

The SEC alleges that the pair "routinely misled" its auditor on numerous fronts—including by not sharing internal projections that showed big problems brewing—which "helped to further the defendants' fraudulent scheme."

A PwC spokeswoman declined to comment. In a filing with the SEC, ITT bashed the suit "as little more than a 'fraud by hindsight' case that will not withstand judicial scrutiny."

"The SEC ignored the fact that the very auditors that were allegedly 'misled' stayed on as the company's auditors [for many months after serious loan problems came to light], even after being informed of the SEC's allegations."

ITT continued: "Nowhere in the complaint is there a citation to a document or email that evidenced any intent to deceive anyone. The company believes that the SEC could not do so because there was no intent to deceive."

The loan programs at issue were PEAKS, which stood for Program for Education Access and Knowledge, and CUSO, or Credit Union Service Organization. PEAKS doled out more than $300 million in loans funded by outside investors. Funding for CUSO's $141 million in loans came from credit unions, including the Eli Lilly Federal Credit Union, which by itself recorded a $26 million loss allowance in 2012 from its participation in the program.

The vast majority of the borrowers in both programs had weak credit, the SEC noted in its suit, and as a result the funders stipulated that ITT step in and make millions of dollars in "guarantee" payments if losses reached certain thresholds.

When the PEAKS loans began souring in a big way, according to the suit, ITT began making minimum monthly payments on behalf of borrowers—without even telling the borrowers or disclosing the move in regulatory filings.

In October 2012, for instance, ITT made $2.4 million in payments for borrowers, which the SEC said brought down defaults far enough that the company avoided having to make $30 million in guarantee payments.

The fact that ITT was not reporting guarantee payments left investors with the false impression that the loans were holding up well. In fact, the company's liabilities for defaults were swelling ever-larger, the SEC said.

When ITT started making the borrowers' payments, the company told PwC that program rules permitted the payments and that PEAKS' financial backers agreed with that interpretation, according to the suit.

In fact, the SEC said, ITT had not even told the financial backers. And when backers learned about the payments and lodged objections, ITT didn't tell the auditor about the controversy—and also kept quiet after obtaining a legal opinion suggesting the payments were not allowed, the suit alleges.

When PwC announced it was stepping down as auditor, the only disagreement with management it cited was over whether PEAKS should be consolidated into ITT's financials.

The company ultimately consolidated both PEAKS and CUSO into its own financial statements and restated its financials dating back to the first quarter of 2013.

A year ago, ITT paid $40 million to settle claims by PEAKS backers that it circumvented its guarantee obligation by making borrowers' payments. Around that time, ITT projected making $144 million in additional PEAKS guarantee payments.

All the setbacks—including declining enrollment and a 2014 predatory-lending suit filed by the federal Consumer Financial Protection Bureau—have decimated the company's shares. They now fetch around $2.35, down from $127 in 2007. •