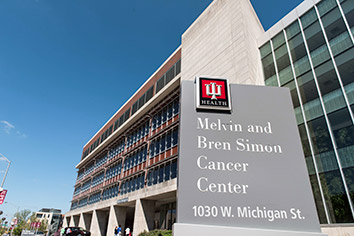 Even though it's only 7 years old, the Indiana University Simon Cancer Center appears ill-suited for the future of cancer care and its own future is in question.
Opened in 2008, the top floor of the 405,000-square-foot facility remains unused by patients. Trends in cancer care, which are keeping inpatient visits flat, suggest it will remain that way.
Plans by the Indiana University Health hospital system to fill up the facility by taking market share from other hospital systems have been shelved.
While the Simon Cancer Center helps IU Health downtown hospitals attract more than 100,000 outpatient visits a year, physicians at the facility say their patients consistently complain about the cost and difficulty of parking at the center.
Now, IU Health faces a significant decision on whether to abandon the $150 million center entirely or try to maintain it in its current form even after all other clinical operations move out of University Hospital, to which the cancer center is attached.
Construction of the Simon Cancer Center was funded in part by a $25 million gift from the late Melvin Simon and his wife Bren. IU Health officials announced last month they would close University Hospital as an acute-care hospital by 2022 and consolidate its operations on the campuses of Methodist Hospital and Riley Hospital for Children. But they gave conflicting messages on what would happen to the Simon Cancer Center.
Jonathan Curtright, chief operating officer of University and Methodist hospitals, when asked in an April 24 conference call about the future of the cancer center, said, "We are going to be moving all of our clinical services to the new campus."
But Dr. Jay Hess, dean of the IU School of Medicine, told reporters on that call that decisions about the cancer center haven't been finalized.
"There will always be a Simon Cancer Center," Hess said. "But there's still ongoing work regarding that."
IU Health officials have declined to offer more detail since that call, saying only they are in the next phase of decision-making.
Physicians at the cancer center have been told the same thing, said Dr. Nasser Hanna, an oncologist at the IU School of Medicine.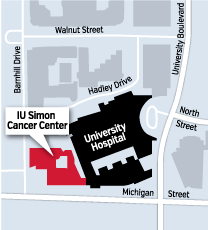 "We've been told there will always be an IU Simon Cancer Center. The issue is, what physical structure will contain it? To that end, we have not been told," he wrote in an email. "I think many of us are under the assumption that we will be relocating to the downtown campus [where Methodist is currently], but that has not been confirmed."
Going it alone?
IU Health officials say they might put rehabilitation or post-acute-care services in the University Hospital building after the hospital services move out.
But it would be highly unusual—and highly inefficient—to operate Simon Cancer Center as a stand-alone facility.
The only facilities that do operate this way are ones that are paid higher rates by the federal Medicare program because they were among the first cancer centers to open. These include some of the country's most famous, such as the MD Anderson Cancer Center in Houston, the Roswell Park Cancer Institute in Buffalo, and the Memorial Sloan-Kettering Cancer Center in New York.
But later hospitals were not allowed to join that program.
"It's just rare because there aren't that many patients that need [inpatient] cancer treatment," said Marisa Deline, an oncology research consultant at The Advisory Board Co., which serves hospitals. "It doesn't make sense to have a whole hospital when only 5 percent of your patients are going to be on the inpatient side."
If the cancer center did operate as a stand-alone facility, many of the specialized personnel it now shares with the rest of University Hospital—radiologists, surgeons, therapists—would spend their time either working with far fewer patients or shuttling back and forth between Methodist and the cancer center.
The center has fewer than 60 inpatient beds in operation, even though it was built to have 80. But changes in cancer care have kept the number of inpatients flat and will keep them that way, according to The Advisory Board.
The firm predicts the number of cancer inpatients will grow only 3.3 percent by 2019, pushed up only by the aging of the population. But outpatient visits are expected to grow more than 17 percent by 2019.
Starting about 20 years ago, fewer cancer patients needed to stay overnight in a hospital because better anti-nausea medicines made it easier to handle the side effects of chemotherapy. After that, drug companies also made infusion drugs that could be delivered more quickly, reducing the number of infusion patients who needed to stay overnight.
And in the past decade, more drugs that used to require infusions have been turned into pill form, allowing them to be taken at home.
Growth plans shelved
IU Health officials have long acknowledged that the inpatient side of the business won't grow.
"We only grow patient volume at the expense of the competition," states one of the bullet points listed in a January 2012 strategy presentation given by Dr. Doug Schwartzentruber, medical director for cancer care across the IU health system, and Jim Terwilliger, who was at the time vice president of IU Health's cancer services.
But IU Health officials thought they could attract more cancer cases. They noted that 37 percent of all Hoosier cancer patients are diagnosed at an IU Health facility, but only 23 percent of the inpatients receive care from IU Health.
"We are currently leaking a great deal of oncology business to other systems," stated the presentation by Schwartzentruber and Terwilliger.
That presentation set a two-year goal of raising IU Health's inpatient market share to more than 45 percent. That included building out the vacant space in the Simon Cancer Center as well as new cancer facilities at the IU Health Saxony hospital.
IU Health made some progress on the plan, pushing its statewide cancer market share to 27 percent by the end of 2013, according to data collected by the Indiana State Department of Health.
But it abandoned those growth plans quickly. By the end of 2012, IU Health had shifted focus, turning its attention to cutting out $1 billion in operating expenses. Part of that plan was to close University Hospital.
So the Simon Cancer Center remained a shiny new facility—with lots of vacant space. When the facility opened in August 2008, IU Health officials predicted it would be completely built out and in use within 24 months.
According to an Advisory Board survey of cancer patients nationally, patients like the idea of having all their care in one place, as the Simon Cancer Center was created to do. But they also don't like having to handle busy traffic, difficult parking or long walks to get to their appointments, Deline said.
And those continue to be issues at the Simon Cancer Center, said Hanna, the IU cancer doctor.
"Regarding parking—this is a BIG issue and not just a complaint of a vocal minority," he wrote in an email. While patients who come for chemotherapy or radiation can get a voucher to cover their parking fees, other outpatients do not. Nor do their family members. "This is a common complaint of patients, but is also a point of consternation for physicians and nurses. Some of our patients simply cannot afford this and coming downtown to the 'big city' can be an overwhelming experience for some patients."•
Please enable JavaScript to view this content.