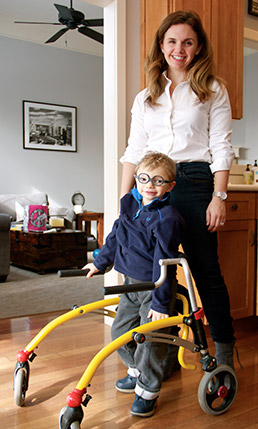 Bombacino's business is built on healthier food for her son, A.J. (Photo courtesy of Julie Bombacino)
Julie Bombacino developed a nutritional food blend for her disabled son that's now turned into a full-fledged business producing packets for people who need feeding tubes to eat.
After two years of research and fundraising, the Chesterton resident in northern Indiana began delivering in January 2014 her chicken, salmon and vegan varieties under the Real Food Blends name.
The company is taking off. Bombacino, 39, said sales in 2015 are expected to top $1 million.
The growth prompted her husband, Tony, to quit his job and join the company to provide marketing expertise. Otherwise, Bombacino simply relies on a vice president of operations and finance and a customer service representative, in addition to a handful of consultants.
She contracts processing out to a manufacturer on the West Coast that distributes her products by mail. Packets sell in a case of 12 for $49.95—or about $4 a meal—and have been shipped to all 50 states.
Retail outlets don't stock tube-feeding products simply because there isn't enough demand in any one geographic region to necessitate shelf space, Bombacino said.
The Bombacinos' now-4-year-old son A.J. is afflicted with several conditions, including cerebral palsy and epilepsy, and has been fed through a tube since he was 6 months old.
The tube-feeding-food market is dominated by formulas that rely on corn syrup or a derivative for nutrition. Bombacino tried eight varieties before taking matters into her own hands.
"He threw up every single day of his life until he was 1, when I started making his food," she said. "He was doing really horribly on all of them, and we couldn't figure out why."
Bombacino began blending up real food—the way nurses once did before the advent of formulas—like chicken, steak and eggs. A.J.'s health improved dramatically.
But blending food is not for the faint of heart. Bombacino had to be precise on how many calories and proteins A.J. consumed. She cut and prepped the foods that she put through a high-powered blender to pulverize them enough to flow through a feeding tube. Then there's the danger of contamination or clogging a tube.
"I had to make every single morsel of food that goes into his body," she said. "I was a stay-at-home mom, so I had time, but every time we left the house it was a bit of a fiasco."
Bombacino might have been a stay-at-home mother then, but she certainly possessed the skills to start her own business. She earned marketing and journalism degrees from Ohio State University and an MBA in marketing from DePaul University.
Bombacino raised $500,000 from angel investors and incorporated Real Food Blends in 2012. A breakfast blend is set to hit the market in June.•
Check out the rest of IBJ's 2015 Innovation Issue.
Please enable JavaScript to view this content.