Tom Jernstedt has his fingerprints on almost every aspect of the men's and women's NCAA basketball tournaments—not to mention the association's move to Indianapolis.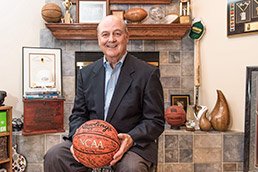 Tom Jernstedt (IBJ Photo/ Eric Learned)
Despite suffering as a child from what he called a mild case of polio, Jernstedt earned a scholarship to play football for the University of Oregon, where he became involved in student government and as a recruiter before graduating in 1967.
In 1969, he left a job selling coffee wholesale to join the Oregon athletic department—at a considerable pay cut. In 1972, while handling operations for the NCAA track and field championships, his diplomacy skills in dealing with legendary and sometimes surly Oregon track coach Bill Bowerman and his can-do attitude caught the eye of NCAA officials.
They offered Jernstedt, then 26, a job as director of events. He ended up working with the association for 38 years, before departing in 2010.
"I was enjoying the NCAA in so many ways, I just wasn't ready to leave," said Jernstedt. When he joined the organization, the Final Four wasn't even known as the Final Four.
Jernstedt quickly took the lead on the men's basketball tournament. He worked to brand and trademark the Final Four. (The Illinois state high school association used the phrase first, he noted.)
He led the effort to expand the tournament to 64 teams, move the Final Four to a Saturday-Monday format, and use the Ratings Performance Index (RPI) as part of the tournament selection process. He also was central to every TV contract negotiation for the NCAA basketball tournament for three decades.
Jernstedt, who still lives in downtown Indianapolis with his wife, Kris, and 12-year-old son, Cole, also worked on numerous initiatives beyond men's basketball.
He helped grow NCAA championship events from 24 to 88. He was promoted to chief operating officer, senior vice president, associate executive director and eventually executive vice president, the title he held his last seven years.
Jernstedt led discussions with the Association of Intercollegiate Athletics for Women when the NCAA decided to start sanctioning women's college events in 1981.
He also was a key player in the NCAA's 1997 move to Indianapolis from Overland Park, Kansas.
"We wanted to invest [some of the NCAA's money] by buying the building we were in," Jernstedt said. "And the building owner turned us down flat. So we decided to open up a search for a new home."
Indianapolis wasn't even on the NCAA's list of top 10 possibilities. Jernstedt, who had become familiar with Indianapolis through college sports events the city hosted, recommended that it—along with Charlotte, North Carolina—get serious consideration.
"After that, Indianapolis blew us away with their bid," he said.
Though Jernstedt has been gone from the NCAA for five years, he's hardly retired. He is a senior adviser for the Big East conference and helped it through a major realignment two years ago. He also does consulting work for the Big 12 and Mountain West conferences.•
Check out the rest of IBJ's 2015 Innovation Issue.
Please enable JavaScript to view this content.