It's never too late to reinvent yourself. Or in the case of Rose-Hulman Institute of Technology mechanical engineering sophomore Tim Balz, too soon.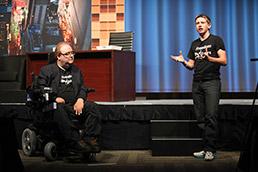 Tim Balz demonstrated his winning design at Intel's 2014 Developer Forum in San Francisco. (Photo courtesy of Rose-Hulman Institute of Technology)
Though he's only 20 years old, Balz has already had his first life-changing epiphany. As a freshman at Plainfield High School, he was a three-letter athlete but an indifferent student. So indifferent that he was counseled to drop some of his honors-level classes and concentrate on sports. But one of his instructors felt it was time for him to raise his horizons.
"My industrial technology teacher must have seen something in me that others hadn't, because he convinced me to quit all my sports so I could help him start our first school robotics team," Balz recalled. "That was the best decision of my life, without a doubt."
Balz reordered his priorities, rising from a lackluster 2.7 GPA to 3.65. He's never looked back—perhaps because doing so is a bit frightening.
"To be perfectly honest, that scares me," he said. "It makes me realize how close I was to not doing what I'm doing now. And I love what I'm doing."
What he's doing is innovating. Already, he's made an international name for himself by turning wheelchairs into state-of-the-art, Web-connected systems. He was inspired to do it back in high school, when he saw the difficulties a disabled fellow student faced trying to get around in his chair.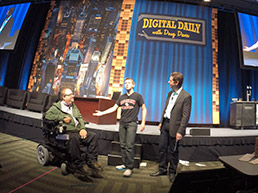 (Photo courtesy of Rose-Hulman Institute of Technology)
Last fall, Balz led a team of Intel engineering interns in designing a Connected Wheelchair. It hooks the device into Internet-linked data systems that collect both biometrical information about the user and mechanical data about the chair itself. It was so groundbreaking that it earned first place in Intel's Top 10 List of the Coolest Internet of Things designs. Balz demonstrated it last September in San Francisco at the Intel DeveloperForum. Physicist Stephen Hawking joined the gathering via video to congratulate Balz and his team.
That groundbreaking work of bringing wheelchairs into the 21st century illustrates his views on innovation. If you want to do it, look around for a problem that's waiting to be solved.
"I was able to see firsthand a problem where, with my knowledge of robotics, I was able to make a little bit of a difference," Balz said. "The simple, one-sentence goal for my life is, I want to use my skills in engineering to change as many people's lives for the positive as possible."
Though born with a gift, Balz thinks anyone can be an innovator.
"You don't need to be born with an innovative mind-set," he said. "You can develop it by looking at things differently and not accepting the status quo—the idea that something is broken and I can't fix it. If something breaks, find out why and find out how to fix it. In the process, you'll develop an innovative mind."•
Check out the rest of IBJ's 2015 Innovation Issue.
Please enable JavaScript to view this content.