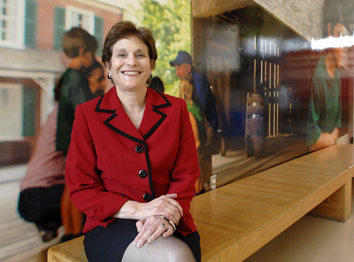 Conner Prairie President and CEO Ellen Rosenthal announced Thursday that she will retire at the end of the year after 12 years of leadership.
Rosenthal, 62, took control of the interactive history park in Fishers in 2003 as executive director, and was named president and CEO in 2005.
Rosenthal shared the news with employees during a meeting Thursday morning.
"This was one of the hardest decisions I've ever made," Rosenthal said in a written statement. "As I looked back on what I set out to accomplish when I took over leadership, I realized how much we've completed and realized that it was time to retire. Working at Conner Prairie for the last 16 years has been the most rewarding segment of my long career in the museum industry."
Under Rosenthal's control, Conner Prairie raised and received millions of dollars, including a $2.3 million grant from the National Science Foundation, and the annual operating budget grew to nearly $12 million. According to the not-for-profit's latest IRS Form 990, it raised $11 million in 2013 from donations, grants and visitors.
Rosenthal was paid $200,015 in 2013, according to the 990 form.
Conner Prairie has enjoyed a 250-percent increase in annual attendance since she became executive director. More than 360,000 guests visit the park every year.
Rosenthal is credited for helping transform Conner Prairie from a traditional living history museum to an interactive and immersive history park that incorporates learning experiences in math, science, technology and engineering. She pushed the museum's mission to "inspire curiosity and foster learning about Indiana's past by providing engaging, individualized and unique experiences."
Rosenthal also helped the 850-acre park become Indiana's only Smithsonian-affiliated museum. One of the biggest additions during her tenure is the 140-foot helium balloon that has lifted more than 90,000 visitors as high as 377 feet since the exhibit opened in 2009.
She also piloted the "Opening Doors to Great Guests Experience" strategy, which takes a different approach to engaging visitors and helps them participate in the story rather than view it as a spectator. The video explaining the program has been purchased and implemented at 1,200 museums worldwide.
During her tenure, Conner Prairie received an Institute of Museum and Library Services National Medal, which is the nation's highest museum honor.
Rosenthal took over leadership at Conner Prairie after John Herbst was ousted over a dispute with then-trustee Earlham College. The Quaker school and the museum had sparred for years over distribution of funds from a trust instituted in 1964 by Eli Lilly primarily to support Conner Prairie.
Earlham fired Herbst and most board members in June 2003, appointing its own president and giving Rosenthal the title of executive director during the 2-1/2 years it took the Indiana attorney general to broker a separation agreement. Earlham eventually agreed to transfer $125 million in assets to the museum and its new foundation.
Prior to joining Conner Prairie in 1999 as vice president of internal affairs, Rosenthal focused her career on developing new museums and exhibits. She's spent time in leadership roles at the Minnesota Historical Society, Frick Art and Historical Center and Sen. John Heinz History Center. As curatorial director for the American History Workshop, she oversaw projects at the National Museum of American History, South Street Seaport Museum and National Endowment for Humanities.
"Ellen has mixed emotions about her decision but considered it at great length before arriving at her conclusion," Conner Prairie Board of Directors Chairman Christopher Clapp said in a written statement. "Her passion to engage and inspire learning has enhanced Conner Prairie's reputation locally and globally. Ellen has accomplished many of the initiatives that she set out to address and feels it is time to turn her attention solely to her family."
Rosenthal, a New Jersey native, received a bachelor's degree from Columbia University, and two master's degrees from the University of Delaware and from Carnegie Mellon University.
She's received a handful of honors for her innovative ideas and push for creativity.
In 2006, former Gov. Mitch Daniels named her a Distinguished Hoosier and also appointed her to the 2016 Indiana Bicentennial Commission.
Conner Prairie's board of directors plans to use a national recruiting firm to find Rosenthal's successor.
Please enable JavaScript to view this content.