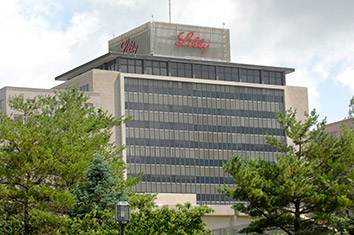 Eli Lilly and Co. has no plans to divest its animal health unit, the company said after its stock rose more than any other in the Standard & Poor's 500 index Tuesday following an analyst's question about potential spinoff plans.
"We have no intention of divesting our Elanco Animal Health business," spokeswoman Lauren Zierke said in an email. "We continue to believe Lilly's model for running Elanco is the best one for creating strong business performance and shareholder value. Furthermore, we expect Elanco to be an important driver of growth for Lilly in the coming years."
Lilly's Elanco unit makes drugs for livestock and pets, generating sales of $2.35 billion last year.
Eli Lilly stock rose 5.4 percent, to $82.77 per share, Tuesday, its biggest daily increase since March 2009, after Elanco President Jeffrey Simmons was asked if Lilly might one day shed the unit in an initial public offering.
"We'll see, but we are very intentional about a business model that we think works," Simmons said at an investor conference hosted by Goldman Sachs Group Inc. "And we think the IPO story hasn't necessarily fully played out; there's some distraction in that model."
Lilly, based in Indianapolis, got 86 percent of its revenue last year from drugs for people. It's seeking to rebound from what it has called a low point in sales in 2014, after losing exclusive rights to blockbuster medicines including Cymbalta and Zyprexa.
Simmons said the company regularly discusses whether the Elanco unit works better inside or outside Lilly. The animal health business has many of its own plants and systems, and also splits some services with Lilly's human drug operations. There are advantages to each, he said.
"We need to be as fast and autonomous as any competitor that has been spun out," he said. "The board and Lilly and the executive officers are all saying, 'Is there anything we're doing to slow us down and be less competitive?'"
In 2013, Pfizer spun off its Zoetis animal health unit through an initial public offering. Since then, Zoetis shares have gained 89 percent. The company reported $4.79 billion in sales last year.
Please enable JavaScript to view this content.