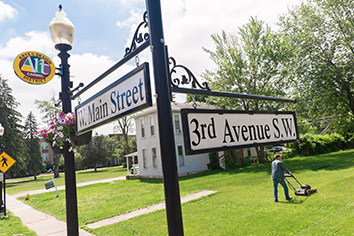 On the south side of West Main Street in Carmel's Arts & Design District, a short row of modest houses is tucked behind towering trees.
It's a stark contrast with the other side of the street, which is lined with three-story brick structures for first-floor retail and upper-level apartments.
The homes—and some of the residents living in the neighborhood—moved in long before Carmel Mayor Jim Brainard proposed the downtown district in 2003 and years before mixed-use developments consumed the area.
The two blocks on the western edge of the district are residential, at least for now, but that's expected to change as the population grows by 1,500 every year and the city continues its quest to create a walkable community.
Expanding downtown's borders is seen as inevitable.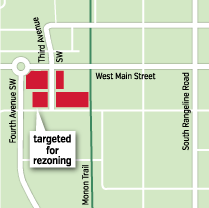 A rezoning request pending before the Carmel Plan Commission could be the first step in transforming the character of those blocks on West Main between Fourth Avenue Southwest and the Monon Trail.
The proposal would change the zoning from residential and transitional business to commercial development, allowing four-story buildings.
It would affect 12 parcels directly and dozens of others that border the land in question.
No redevelopment plans have been filed with the city yet, but one property owner requested a zoning change for two parcels. Rather than alter the zoning piecemeal, the city moved to modify zoning for the entire two blocks.
Other property owners aren't thrilled, and some have said they have no intention of selling their homes.
Several plan commission members aren't sold on the proposal, either. Over the next few months, city officials will work on a solution that prepares the land for redevelopment but doesn't inconvenience current residents.

Rider
"A successful negotiation is when both sides leave a little unhappy," said Carmel City Council member Kevin Rider, who also serves on the Carmel Plan Commission. "And that's probably where we'll end up with this."
Groomed for growth
City officials have long seen potential for redevelopment of the two blocks in question.

In a plan prepared by Speck and Associates LLC in 2012 for Carmel's Midtown area, those blocks are converted into multiple mixed-use buildings, with space for row houses and parking hidden from the sidewalk.
The design for the northeast portion of the land includes a "Corner Plaza" on Main Street and the Monon Trail, bordered by five row houses, two three-story mixed-use buildings totaling 39,000 square feet, and 70 parking spots.
According to the plan by urban planner Jeff Speck, this would be the redevelopment's first phase.
The "likely outcome" described for a second phase, in the block to the west, includes eight row houses; one three-story, 27,000-square-feet, mixed-use building; and 55 parking spots.

Race
"There's going to be increasing market pressure on this area," said urban planner and architect Bruce Race.
It could be a few years before any commercial development has enough land to build, though.
Several residents have committed to staying put and have expressed concerns about property values, increasing density and the unattractiveness of three- and four-story structures next to one-story homes.
"I don't want that next to my house," resident Beth Meyers said of a 60-foot building. "The possibility of it scares the crap out of me."
Meyers also said she has no intention of selling her house at 331 W. Main St.
"If you have a two-story or four-story building next to your lot, it's a different kind of neighborhood," Race said. "And I get that."
Nevertheless, he said, the proposal is reasonable because it allows current property owners to be grandfathered in as non-conforming uses. If they sell, the new zoning would take effect.
Race said cities usually adopt a plan for an area before new zoning regulations are discussed, so it can guide future growth and development.
"This sort of market pressure on the edges is not going to go away, so what's your policy?" Race said. "Otherwise, this battle will be fought over and over again every time you try to push the edge of downtown."
The only framework the city has is Speck's 2012 plan, which does not include a time line. The plan was also never formally adopted.
If the two blocks were redeveloped into commercial properties, the new structures would still border housing to the south, reintroducing the problem of needing a transition between commercial and residential areas.
"If you take the whole block, then the back of the project is facing another single-family block," Race said. "You have to think about both sides of the street."
Political process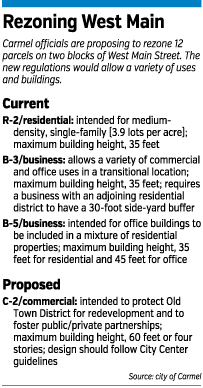 Earlier this year, Soori Ardalan, owner of Soori Gallery on West Main Street, requested rezoning 0.33 acre at 321 W. Main St. from residential to business. She intended to demolish the existing structure and construct a new one.
That prompted the city to consider rezoning the entire two blocks rather than just the two parcels Ardalan wanted.
The proposed zoning is intended to protect land for redevelopment that would "incorporate civic value and mercantile activity" and promote public-private partnerships, according to city code. The maximum height of buildings is 60 feet, or four stories.
Current zoning for the 12 parcels allows 30-foot residential homes or 40-foot office buildings meant to transition into the city's downtown.
Rider has stressed that the city won't allow a 60-foot building next to a house.
"Can we just get right to the point and say it's not going to be 60 feet?" Rider said at a recent plan commission meeting. "I don't see anything over three stories."
Other plan commission members seemed to agree that a four-story structure next to a residential block isn't appealing.
"I think there needs to be a good plan, but I don't think this is it," plan commission member Nick Kestner said of the current proposal.
The two blocks could be put under a planned unit development code, or property owners could be required to sign commitments for further restrictions, like a three-story height limit.
The plan commission has already considered the rezoning at two meetings, and more discussion is expected. No time line has been set for a vote.•
Please enable JavaScript to view this content.