The largest generation in history has started to retire, and OneAmerica Financial Partners Inc. is capitalizing. In the past decade, OneAmerica has tripled its annual sales to more than $2.5 billion and tripled its assets to $47 billion. Last year, it added 102 employees to its Indianapolis staff, raising local employment to 1,370. But CEO Scott Davison, who took over from longtime OneAmerica leader Dayton Molendorp last year, said OneAmerica's future depends not only on baby boomers, but also on retirement-plan advisers and more acquisitions.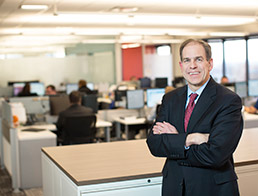 Davison (Photo courtesy of OneAmerica)
IBJ: Roughly 75 percent of your annual premiums come from your retirement-services division. How much of your recent growth is coming just because the massive baby boomer generation is starting to retire?
DAVISON: All the retirement sales that drive that big number, those are all people that are still working. With the baby boomers, though, [OneAmerica's] asset-based long-term-care product is a great fit. Our product allows people to reposition some of their assets on a tax-advantaged basis to pay for long-term-care expenses. And it's guaranteed; it's secure. It's unlike [health-based] long-term care, which has a lot of rate increases. We can't increase rates. That's a strong market we think has an enormous amount of potential from here on out.
IBJ: Opposite the boomers are the millennials, so many of whom couldn't get jobs with employer-sponsored retirement benefits during the Great Recession. As you look out long term for OneAmerica's business, does that create any concern for you?
DAVISON: I think so. It's harder to save. We all know the way the behavioral economics work. If you've got a retirement plan at work and your employer talks about it—especially for middle-market consumers—that little push from their employer makes a big difference. The economy the last few years has really been rough on young folks coming out of school because it's been hard to get a job. The good news this year is, it's getting a lot easier.
IBJ: Last year, OneAmerica acquired the retirement-services division of Los Angeles-based City National Bank. Are you looking to do more acquisitions?
DAVISON: We absolutely are. In the last 10 years, there hasn't been probably a week that's gone by where we haven't been looking at at least one. At any point in time, we're looking at two or three, in various stages. The best opportunity for us is in the retirement-services space, because of what's available out there and because of the need for scale in that business.
IBJ: The City National deal gave you more presence in California. Does it open more opportunities for growth there?
DAVISON: Yeah, that's one of our strongest markets just from an organic sales growth [standpoint], and has been for a while. There is a high concentration of national advisers there. Often, the company resides in other states, but you're accessing the company through West Coast advisers.
IBJ: Why are advisers so important to OneAmerica's business?
DAVISON: If you have a good relationship with the adviser, you tend to have a pretty good relationship with the customer. That sounds simple, but a lot of folks have moved in the opposite direction. They've gone to more of a transactional model, where you have these completely independent agents and it becomes about price and product. We've kind of doubled down on preserving those relationships: being there with education, being there with service, being there with access—so, if you have an adviser, they can get to me or one of my direct reports a lot faster than they can at some of the bigger companies.•
Please enable JavaScript to view this content.