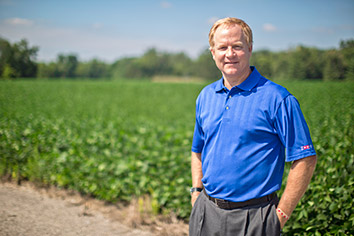 The Pittman family never wanted a giant traditional grocery store included in a development on prime property it owned on the eastern edge of Zionsville.
Developer Steve Pittman spent two years, after presenting the $90 million mixed-use project to town officials, securing a specialty grocery as an anchor tenant.
Now the area, dubbed "The Farm," will be home to the state's first Fresh Fare by Kroger, and Pittman is piecing together plans for the rest of the 62-acre property, which the Zionsville Town Council agreed in 2013 to rezone.
Boone County Economic Development Corp. Executive Director Molly Whitehead said the upscale commercial and residential project will add to Zionsville's economic-development "tool box." The corner serves as a gateway to Zionsville's downtown, so it's an area town officials have watched closely.

Pittman
Pittman said he doesn't know which domino will fall first—possibly a medical office or apartment lofts or more retail surrounding the upscale grocery store—but predicted that, within a couple of months, projects could break ground. Town officials will review designs for each component for final approvals.
The Pittman family owned the mostly vacant land on the southwest corner of Michigan Road and Sycamore Street for decades before moving forward on development.
Plans call for up to 150,000 square feet of retail space, offices, 400 multifamily units and a handful of high-end estate houses.
The zoning prohibits uses like a gas station or any store larger than 60,000 square feet, so it complies with the town's "big box ordinance."
Pittman said family members wanted a smaller store, but it was tough to work within the size limitation because specialty grocers often operate in 80,000- to 120,000-square-foot buildings.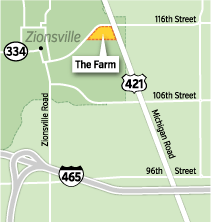 Fresh Fare will hit the 60,000-square-foot limit.
Katie Wolfram, vice president of merchandising for Kroger's Central Division, said Fresh Fare is the company's most upscale brand, and only a handful operate throughout the country.
Keith Rudemiller, real estate manager for Kroger's Central Division, said the town has wanted a Kroger for a while, and The Farm gave the company an opportunity to open one.
Wolfram said the store will be similar to the recently renovated Kroger along Rangeline Road in Carmel, with a wide selection of perishable items, more organic and natural food options and a variety of prepared foods with on-site chefs.
"What we would want to do [in Carmel] and want to do in Zionsville is very similar," Wolfram said. "It will have the best that we have to offer at the time."
General-merchandise offerings will be limited.
Fresh Fare will also house a bistro with outdoor seating, an in-store Starbucks and possibly a culinary kitchen for cooking classes and events.
"People won't be coming in there to just buy their groceries and leave," Pittman said.
Rudemiller said store decor will be modern, with upscale fixtures and plenty of windows to bring in natural light.
Town officials will review the building design before construction begins, but Rudemiller expects signage to emphasize the "Fresh Fare" brand more than the Kroger brand.
Pittman echoed that the grocery will not be called Kroger.
"It's going to be really nice architecture," he said.
Construction could start by late summer or early fall, with the store expected to open late next summer.
Pittman said he's working with other developers on plans for a 30,000- to 35,000-square-foot medical office and 25,000-square-foot retail space for secondary "B shop" retailers. He said he's looking for businesses like a dry cleaner, ice cream shop, shoe store and restaurant.
He intends to hire a retail brokerage firm to help with that component of the project.
On the residential side, Pittman said, he's finalizing plans for townhomes and lofts.
After those pieces start to come together, Pittman said, he can work on attracting companies to several other parcels on the property.•
Please enable JavaScript to view this content.