Deandre Armour and three accomplices spent at least a few weeks plotting the 2013 robbery of a bank branch in Fishers.
They bought disguises, two-way radios and latex gloves, federal authorities said. They arrived at the bank early, and two of them staked out the back door. When a female employee unlocked the door around 8 a.m., they forced her inside at gunpoint.
Armour and his co-conspirators didn't get any cash that morning—the employee couldn't open the vault by herself, authorities said. They fled in the woman's car and were arrested shortly thereafter. Earlier this month, a federal judge sentenced them to prison terms ranging from seven to 27 years.
Bank robberies have been taking place for decades, but lately authorities have been better at solving them and bandits have been getting less cash—if anything. Bank heists have dropped precipitously since the early 2000s, and banking and criminal justice experts said they believe a key factor is the combination of less reward and more risk.
"Those are two things that would cause me, if I was considering a bank robbery, to take a different approach," said Thomas Stucky, associate professor of criminal justice at IUPUI. "If the risk is higher and the reward is lower, you would expect fewer people to take that risk."
FBI statistics show there were 3,100 robberies of U.S. banks and related financial institutions last year. That's down about 63 percent from the more than 8,500 reported in 2001.
Indiana and Marion County have seen such robberies fall by more than half since the mid-2000s, with 77 in the state and 30 in the county in 2014.
The numbers are on pace to be even lower this year—2,300 nationally, 58 in Indiana, and 24 in Marion County.
Observers credit advances in investigative technology, including high-quality digital video recordings that have come to replace grainy taped footage. The national "solution rate" for bank robberies was about 73 percent last year, the FBI said, up from 57 percent in 2000.
Meanwhile, bank robberies have become less lucrative, yielding an average of $6,000 in 2014 versus $18,000 in 2000.

Lasley
"Banks are not holding as much cash in branches as they once did," said Rod Lasley, vice president of products and services at the Indiana Bankers Association.
Banks don't need to hold as much cash because customers tap ATMs to get money and use those machines or cell phone cameras to deposit it. Banks are shifting to advice centers as opposed to transaction centers, experts said, and the money they keep on hand reflects that.
Robberies of any kind are generally crimes of opportunity, Stucky said, and criminals gravitate toward the easiest targets. But with multiple high-tech cameras, open layouts, and, in some cases, inaccessible cash dispensers and difficult escape routes, banks have become fairly difficult targets.
And federal penalties for even conspiring to rob a bank can be severe, Stucky noted.
Burgeoning banking trends could push the numbers even lower. For example, Salin Bank's Allisonville Road branch has no tellers. Customers instead use interactive teller machines, which employ video screens to access tellers at a remote location.
Meanwhile, Regions Bank is testing replacing tellers with so-called universal bankers, who primarily assist with consulting and loan products but can withdraw cash for customers if need be.

O'Brien
These and other trends could throw off would-be robbers, said Ed O'Brien, an analyst at Massachusetts-based Mercator Advisory Group Inc.
"Bank robbers want to get in and out in less than a minute, and if [bankers] are walking around with tablets, that's not in the script," he said.
Banks' bigger fear
As brick-and-mortar bank robberies decline, financial institutions are finding that digital crimes are on the rise.
The Internet Crime Complaint Center, run in part by the FBI, reported $800 million in losses from U.S. cyber crimes in 2014, up from $183 million in 2005.
"It's a lot more lucrative, unfortunately, to come in through the back door," O'Brien said.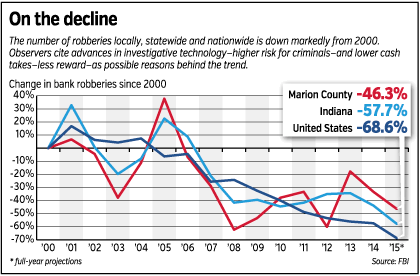 Brian O'Hara, a senior security consultant at Indianapolis-based Rook Security, said that in the past two years, he's worked with Indiana corporate clients that have lost seven-figure sums to cyber bandits. In such cases, the criminals may not have hacked the banks themselves, but they still deal blows to banks' reputations.
O'Hara said cyber criminals primarily target bank officials or their corporate customers with a variety of phishing scams, aiming to gather as much identifying information or credentials as possible.
For corporate customers, they typically engage in three types of attacks, he said. One is applying for a line of credit, and another is Automated Clearing House fraud, which involves redirecting payments to an unauthorized recipient. The third is called an account takeover, which allows criminals to wire immense sums of money quickly.
"When you get an account takeover and can do a wire transfer of seven or eight figures in seconds that is not recoverable," O'Hara said, "that's a whole lot of money at stake."•
Please enable JavaScript to view this content.