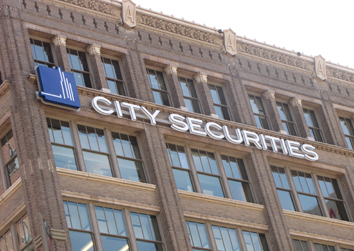 City Securities Corp. has agreed to pay $250,000 as part of an industry-wide settlement with the Securities and Exchange Commission over disclosure shortfalls in municipal bond offerings.
The SEC on June 18 announced $9.3 million in fines involving 36 firms that self-reported violations of federal securities laws. The SEC said the firms that settled, which include J.P. Morgan, Citigroup and Goldman Sachs, violated federal securities laws in offerings from 2010 to 2014.
Specifically, the firms sold municipal bonds "using offering documents that contained materially false statements or omissions" and/or "failed to conduct adequate due diligence to identify the misstatements and omissions."
The firms "did not admit or deny the findings," according to the SEC.
Regulators say the so-called Muni-Bond Disclosure Initiative, which is ongoing, will help ensure investors can get reliable data to make informed decisions in the $3.7 trillion municipal bond market. Indianapolis-based City Securities handles about $1.5 billion in municipal bond issues per year.
"Because these 36 firms underwrite a substantial portion of the country's municipal bonds each year, we expect a large number of bondholders will benefit from the resulting improvements in due diligence and disclosure," LeeAnn Ghazil Gaunt, of the SEC's enforcement division, said in statement.
On the other hand, broker-dealers such as City Securities are eager for more clear-cut guidance on what level of disclosure violation the SEC considers "material." The firms were urged to report everything, even financial disclosures uploaded a few days late.
The SEC is targeting broker-dealers as a proxy since it does not have direct jurisdiction over municipal debt issuers.
The SEC's order involving City Securities makes note of problematic bond offerings in 2011 and 2012, but it does not identify the issuer or amount in question. In one instance, an issuer filed financial data 45 days late. In the other, relevant data was uploaded to the wrong national repository of municipal securities data.
Linda Matkowski, the firm's executive vice president and fixed income capital markets manager, said City Securities reported everything and is taking cues from the SEC on how to proceed. She said the firm is forbidden from talking publicly about the data it submitted.
"If this is what they say, that's just what we do," Matkowski said. "They promised it would be fairly and unilaterally applied to broker dealers across the board. And so far I have no reason to doubt them at their word."
Fines so far ranged from $60,000 to $500,000, depending on the size of the firm. About 200 broker-dealers and 10,000 issuers have submitted data for the disclosure initiative.
One requirement of the settlement agreement is for broker-dealers to retain independent consultants "to review its policies and procedures on due diligence for municipal securities underwriting."
The SEC intends to provide a list of recommended consultants, Matkowski noted.
City Securities already uses an outside legal firm, Quarles & Brady LLP, on municipal bond issues.
Please enable JavaScript to view this content.