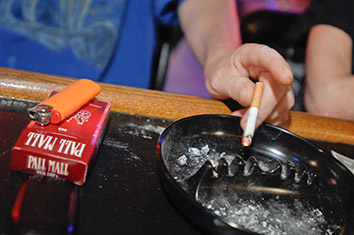 An appeals court panel has ruled that an off-track betting facility in downtown Indianapolis isn't exempt from the city's ban on smoking in places such as bars and restaurants.
The ruling from the Indiana Court of Appeals released Wednesday says treating Winner's Circle Pub, Grille & OTB, 20 N. Pennsylvania St., differently than bars and restaurants is unconstitutional.
The smoking ban had exemptions for places such as hookah bars and satellite gambling facilities. But the judges said the latter doesn't exist for the purpose of smoking and selling tobacco, so its exemption was overturned.
The ruling keeps the city's smoking ban intact, referring to a clause in the ordinance that says other provisions would remain if part of it is deemed unconstitutional.
The lawsuit was brought by two Indianapolis bars in an effort to overturn the ban.
Please enable JavaScript to view this content.