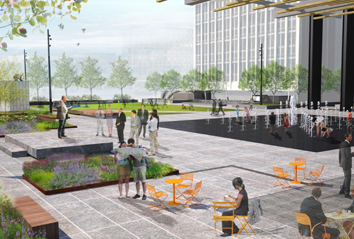 Lilly Endowment Inc. has agreed to contribute $5 million toward the $10 million cost of redeveloping the City-County Building's outdoor plaza, city officials announced Thursday afternoon.
The announcement follows the October unveiling of the winning design for the plaza submitted by Baltimore-based Design Collective, in a city-sponsored contest that drew 23 designs.
The remaking of the public space on the north side of East Washington Street will include a splash park and ice rink, a cafe, game area, presentation platform and outdoor seating area. It also will recognize the former Marion County courthouse that stood on the site until its demolition in 1962 by outlining the building's footprint with pavers.
"Put your head in Rockefeller Center for a moment and that can become ours," Adam Thies, director of the Department of Metropolitan Development, said during the Lilly Endowment announcement.
The Lilly grant hinges on matching funds available from the city. It will request $5 million in tax increment funds from the Metropolitan Development Commission to complete the project.
Construction costs are expected to run $8 million, with design, engineering, programming and other management costs comprising the rest.
If full funding is secured by July 1, construction could begin later this year and finish in early 2017.
The overhaul of the plaza is one of several high-profile projects slated for the Market East district.
Across East Washington Street, the IndyGo transit hub should open late this year. To the east, across Alabama Street, Cummins Inc. is building a headquarters for its growing distribution division, and Flaherty & Collins Properties has started construction on 360 Market to the north. At Old City Hall, 21c Museum Hotels LLC is slated to build a hotel on the parking to the north.
"As for the whole Market East district, transformation happens fast," Thies said.
 
Please enable JavaScript to view this content.