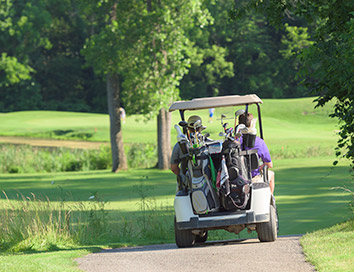 Golf course and country club management firm Green Golf Partners launched on April 1, 2011—at a time the golf industry nationwide was deep in the rough.
"There was a lot of skepticism in the industry. People asked us if we were kidding," recalled Matt McIntee, the Danville-based company's co-founder and CEO. "A lot of people got a chuckle out of our launch date."
With 15 courses now under management, more than 700 employees, and annual revenue just north of $20 million, it's safe to say the company was no April Fools' joke. GGP officials said they've been profitable from the start.
McIntee, who formerly worked as senior vice president of acquisitions and development for Chicago-based Crown Golf Properties, paired with three central Indiana golf industry veterans to start the company with their own money.
"We felt golf was going sideways," he said. "We wanted to do two things: Treat running a golf course like running a business, and bring the fun back into golf."
The company got an early boost by acquiring Indianapolis-based HG Golf Properties and taking over eight courses it managed—primarily in Indiana and Illinois. And GGP continued to grow in Indiana and Illinois by signing deals with courses previously managed by other firms, taking on privately run operations looking for a boost, and expanding into Iowa, Wisconsin, Florida and Georgia.
GGP has no hesitation taking on money-losing operations "if they have potential," McIntee said. "There are some courses that should never have been built."
In Indiana, the firm manages Twin Bridges Golf Club in Danville, Wawasee Golf Club in Syracuse, and Thunderbolt Pass Golf Course in Evansville. Among its eight courses in Illinois, the firm manages Kemper Lakes Golf Club, which has been used on the PGA Tour, and the University of Illinois Golf Course, a 36-hole facility.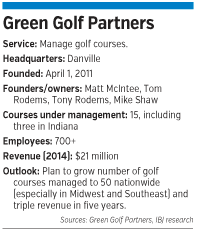 Aggressive growth plans
The company hopes to triple its portfolio of managed courses—and revenue—in the next five years.
"We think that most of our growth will come from courses managing themselves that realize there's got to be a better way to run the business," McIntee said. "We know how to modify the business structure to allow for growth."
While lofty, GGP's growth goals aren't outlandish. Club Corp., a publicly traded Texas golf course management firm, has grown its portfolio to 207 courses and annual revenue to $884 million. GGP isn't interested in getting that big.
"We want to remain hands-on," McIntee said. "We love golf and we want to stay involved in our courses' operations."
The cratering of the industry during the recent recession brought GGP together. McIntee and Tom Rodems, who had known each other since the 1990s when Rodems was superintendent at Meridian Hills Country Club, met to discuss ways they could help grow the industry.
"Tom and I started to look at where the opportunities were," McIntee said. "When everyone was running away from golf, Tom and I decided to run in. We knew golf wasn't going away. It touches too many aspects of our society."
Sinking ship?
Even McIntee's previous employer, a division of conglomerate Henry Crown & Co., bailed on golf in 2007.
The mass exodus was understandable. U.S. golfers played 462 million rounds in 2013, according to industry research firm Golf Datatech, the fewest since 1995. In 2014, the industry saw a 1-percent increase in rounds played, hardly reason for jubilation.
And the future could be a tough sled as the number of young people, age 18 to 30, playing the game has sagged nearly 35 percent since 2004, according to Sports & Fitness Industry Association.
The decline's impact on courses is stark. More golf courses closed than opened in 2014—extending a nine-year trend, according to the National Golf Foundation. And the number of course closures has sped up, averaging 137 a year since 2011, according to golf-industry research firm Pellucid.
"It's been a tough go for course operators," said Milt Thompson, an Indianapolis-based attorney, sports marketer and co-owner of The Trophy Club, a high-end daily-fee course in Lebanon.
So how has GGP managed to grow so dramatically when the industry is stuck in a sand trap?
"Our partners have a unique, diverse set of skills," McIntee said. "And we're open to new things."
The elder Rodems is "a brilliant agronomist," McIntee said, "who spends hours each day pondering the finer points of Zoysia grass versus Bermuda."
Chief Financial Officer Mike Shaw, who formerly worked at Crooked Stick Golf Club in Carmel and Bear Slide Golf Club in Cicero, has a background in commercial real estate and golf facility management, as well as a degree and experience in turf management.
"This makes him a real-deal, one-of-a-kind asset both in the office and in the field," McIntee said. "When it comes to the costs of operating a course, he doesn't take anybody's word for it."
Rodems' son, Tony, who graduated from Indiana University with a business degree and serves as vice president of business development, "is part tech geek and part marketing aficionado," McIntee said, adding that he's helped launch marketing campaigns via social media, direct email and text messaging for the company's courses.
Straightforward strategy
GGP's strategy: Use its vast golf experience to cut costs and improve services and cross-market managed courses while using economies of scale to further drive down costs.
For instance, GGP was able to cut $400,000 from the annual budget at Eagle Creek Golf Course in Findlay, Illinois, primarily by instituting a better turf management program, McIntee said. Cutting costs doesn't mean neglecting courses, he added.
Stephen Jouzapaitis, owner of the Kemper Lakes Golf Club in Kildeer, Illinois, said GGP upgraded customer service and redesigned and improved the golf course while growing membership dues at a double-digit percentage clip in the first year of their management deal.
Micah Maxwell, town manager for Belleair, Florida, which owns the Belleview Biltmore Golf Club, said when GGP took over operations of that course last year, the company upgraded the course's fairways, greens and sand traps as well as the facility's bathrooms and golf carts.
"They made massive changes, but they did it with our input," Maxwell said. "They've been very collaborative and inclusive and that's helped grow the business."
For the third straight year, the average daily rate across all its courses has gone up—almost 3 percent annually, GGP officials said. That comes at a time golf courses nationally are slashing greens fees.
"People will pay for a good product," McIntee said.
Outside the lines
McIntee, who co-founded and owned an adventure sports company before his golf career, scoffs at the idea that golf clubs and courses must always conform to tradition. Fun should also be a priority, he said.
In that vein, GGP-managed courses have embraced a variety of non-golf activities including foot golf (a game of trying to kick a soccer ball into a hole), concerts, movie nights and tent camping on courses.
At Kemper, home of the 1989 PGA Championship and numerous other professional tournaments, GGP staffers host fly-fishing lessons every Tuesday night. The club's banquet hall recently hosted a Golden Gloves boxing tournament.
"We've realized assets at a course go beyond golf," McIntee said. "People want different things. We want to be your source for incremental spending. You want to play golf or need golf balls, we're your guys. You want to have a Bloody Mary, we're your guys."•
Please enable JavaScript to view this content.