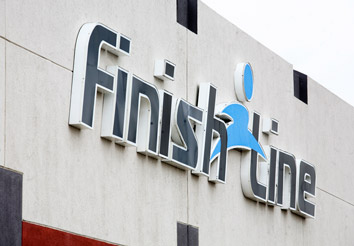 Fiscal first-quarter earnings from The Finish Line Inc. exceeded analyst expectations as profit and revenue both grew.
For the quarter ended May 30, the Indianapolis-based retailer of athletic apparel reported profit of $13.8 million, or 30 cents per share, compared with $12.4 million, or 25 cents per share, in the year-ago period. Revenue rose 9.1 percent, to $443.4 million.
Analysts were expecting earnings of 24 cents per share on revenue of $430 million.
Same-store sales, a key figure that considers stores open at least a year, increased 5.5 percent.
For the fiscal year ending Feb. 27, Finish Line predicts earnings per share of $1.67, below analyst expectations of $1.76.
Inventory increased 9.6 percent, to $323.3 million.
Finish Line operates 1,020 stores in malls and Macy's department stores and 76 Running Specialty shops.
Company shares jumped 6.5 percent, to $28.75 each, in pre-market trading.
 
Please enable JavaScript to view this content.