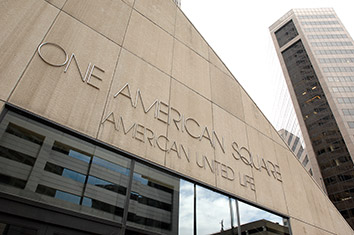 OneAmerica Financial Partners Inc. has agreed to acquire the U.S. retirement services business of BMO Financial Corp., a deal that will almost double the total amount of retirement assets it manages for clients.
Indianapolis-based OneAmerica did not disclose the purchase price of the deal, but said it will bring the company 830 retirement accounts and $26 billion in assets.
That compares with OneAmerica's current assets under management of $47 billion, of which about $30 billion are in retirement plans.
OneAmerica said it was the biggest acquisition in its history. The BMO business will add more than $50 million per-year in revenue to OneAmerica's annual revenue of more than $1.5 billion. It will have an even bigger impact on OneAmerica's profits, which totaled $151.4 million last year.
The deal is expected to close in the third quarter. OneAmerica plans to change the acquired company's name to OneAmerica Retirement Services LLC.
The Milwaukee-based BMO retirement operation will also add 200 employees to OneAmerica's current workforce of 1,629. OneAmerica does not expect the deal to add to its Indianapolis workforce of 1,370.
"Adding BMO's retirement services business enhances our already strong position as a leader in the retirement services industry and complements our high-touch, relationship-based service model," said OneAmerica President and CEO Scott Davison in a written statement.
He noted that when the deal closes in the third quarter, OneAmerica will have more than doubled its assets under management in the past two years.
Earlier this month, Davison told IBJ that OneAmerica was looking to do more acquisitions to fuel its growth. In 2014, the company acquired the San Diego-based retirement business of City National Bank, which had $6.5 billion in assets.
In an interview Friday, Davison added that having a larger base of assets and revenue will now help OneAmerica make needed technology upgrades to the back-office systems used by OneAmerica, BMO and City Naitonal, as well as to the web sites those businesses use to interact with custoemrs and allow them to make transactions.
It's not clear how much the BMO acquisition will add to OneAmerica's 2014 sales of $2.5 billion. About three quarters of those sales came via OneAmerica's retirement plans.
"The addition of this business expands our award-winning service platform, enriches our professional services individually directed account capability and gives us additional sales expertise and geographic reach," said Bill Yoerger, president of the retirement services division for OneAmerica, in a written statement. "We're committed to growing our retirement business, and this acquisition helps us meet that goal."
Please enable JavaScript to view this content.