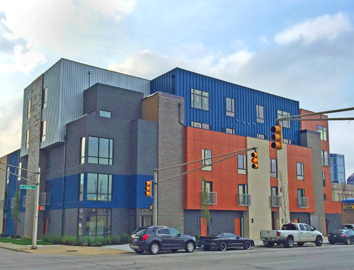 Once an eyesore plagued by numerous code violations, the apartment building at 733 N. Capitol Ave. is leasing up as new ownership finishes fixing all the flaws.
Local restaurateur Mike Cunningham, whose Mass Ave eateries include Bru Burger, Mesh and Union 50, and contractor Patrick Heitz purchased the vacant 31-unit complex in March 2013 from Louisville-based Stock Yards Bank & Trust for $700,000.
The bank had taken ownership of the building, formerly known as the Di Rimini, in 2012 after foreclosing on a $2.8 million loan to the original developer.
After adding a unit, bringing the total to 32, the complex, now called 733 in a nod to its street address, is 76-percent leased, including renters who have signed on but not moved in, Heitz said. The two business partners so far are pleased with occupancy, considering several units are still undergoing renovations. Three 1,000-square-foot apartments and the five available 1,600-square-foot penthouses won't be ready until late August.
"I think it looks really great," Heitz said. "We couldn't have made it look any worse."
Cunningham and Heitz declined to divulge how much they're spending on renovations, only saying that the investment is "significant." The amount likely is at least $1.5 million—the estimate they provided upon purchasing the building.
They removed all windows and replaced them with larger ones that are more aesthetically pleasing, as well as re-clad the building with a combination of a Hardie panel siding, metal and decorative block. Colors are a mix of blue, gray and orange.
"There's not an inch of the exterior that has not been changed," Heitz said. "This is a good instance where people in the city stepped in."
The city ordered construction to stop in October 2010 after code enforcement and plan department officials discovered that Jeff Sparks, the original developer, was building an entirely different structure from the one for which he had sought approval.
Despite the order, owners began moving tenants into the building, leading the state's fire marshal to issue an emergency order barring occupancy. Violations of the Indiana building code included a lack of fire walls between apartment units and a working sprinkler system.
The pair installed new balconies, along with an elevator to meet Americans with Disabilities Act requirements.
Inside, much of the finish work had to be redone.
"The quality of work was really poor," Heitz said. "[The units] had granite countertops and appliances, but it appeared [the previous owner was] running out of money."
All units are two bedrooms, with monthly rents ranging from $1,250 up to $1,900 for the penthouses. Each apartment is three stories, including a ground-level garage, which is almost unheard of downtown. Most apartment projects are built with large parking garages for hundreds of vehicles instead of a separate garage for each unit.
Locally based Phanomen Design is the architect on the project.
The completion of 733 represents the latest addition to a steady revitalization of Capitol Avenue that's occurred over the past few years.
Across the street, the former Litho Press building received a $16 million rehab from local developers TWG Development LLC and Ambrose Property Group to transform it into the 111-unit 800 North Capitol Apartments.
To the north, Peter Brasovan and Jared Byczko, who operate CrossFit NapTown at 609 N. Delaware St., bought the building at 922 N. Capitol Ave. and opened Naptown Fitness.
To the south, at 714 N. Capitol Ave., TwoDeep Brewing Co. opened in 7,000 square feet in August.
Next door, at 702 N. Capitol Ave., a second story has been added to a building that Rowland Design Inc. moved into. Loftus Robinson Development purchased the building, which formerly housed an ADT call center.
Across the street, the Indianapolis Cultural Trail Inc. renovated its new headquarters—a 3,000-square-foot building it's occupying with the Indiana Pacers Bikeshare program—that originally housed a service station and maintenance garage.
 
Please enable JavaScript to view this content.