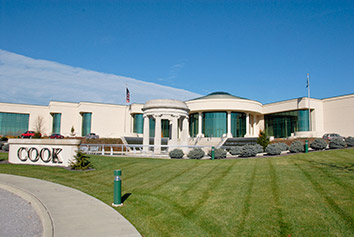 One of the immediate challenges for new Cook Group Inc. CEO Pete Yonkman is all too familiar: a pile of lawsuits from patients claiming one of Cook's medical devices harmed them.
Patients from around the country have filed 100 lawsuits against Bloomington-based Cook, alleging that some of its blood-clot filters have broken apart, moved or poked through the blood vessel where they are implanted, the inferior vena cava, which brings blood from the lower body back to the heart.
The deluge of litigation, which began in 2012, now has been consolidated in federal court in Indianapolis.

Yonkman
Yonkman, 42, who took the helm this month after longtime CEO Kem Hawkins retired, was not available to comment for this story. But Cook officials say they are concerned that this kind of litigation is hampering innovation.
Naturally, Ben Martin, a Dallas attorney who is leading the blood-clot filter litigation against Cook, sees it differently.
A high rate of problems with Cook's filters—one study put it at 100 percent when filters had been implanted for 2-1/2 months or more—has caused damage to some patients' organs and required medical procedures to remove the filters, Martin said. Many other patients have no symptoms after their blood-clot filter fails to remain in place.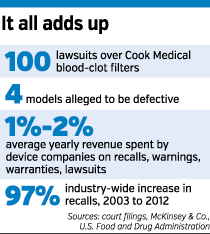 "There are probably tens of thousands of people that are walking around with a perforated vena cava and have absolutely no idea," Martin said. "You've got a massive public health risk in the United States."
Martin expects more lawsuits to flow into the case. Roughly 200,000 blood-clot filters are implanted each year to prevent pulmonary embolisms—an often fatal event that occurs when a blood clot moves into the lungs. The market for what are called IVC Filters is expected to reach $435 million next year, according to a 2014 analysis by market research firm Axis Research Mind.
Cook is one of three leading firms in the industry, along with New Jersey-based C.R. Bard Inc. and the Cordis subsidiary of New Jersey-based Johnson & Johnson.
Martin declined to estimate how much in medical costs each of his plaintiffs has incurred or Cook's potential liability.
For its part, Cook thinks problems with its blood-clot filters are extremely rare and that, even when problems occur, Cook is not at fault because the patients' doctors are highly sophisticated consumers who chose to implant Cook's products.
"A cause of any physical harm sustained by Plaintiffs was misuse of any medical device or product for which Cook Defendants are responsible," wrote attorneys for Cook in their response to the lawsuits. "Plaintiffs' damages or losses, if any, were caused or contributed to by the fault of other products, persons, firms, corporations or entities over whom Cook Defendants had and have no control."
Legal quagmire
For Cook and other medical-device makers, the cost of dealing with product-liability litigation is an increasing burden.
A 2012 analysis by McKinsey & Co. estimated that "non-routine" quality issues—recalls, warning letters, warranties and lawsuits—cost medical-device companies 1 percent to 2 percent of their annual revenue.
If that figure is accurate for Cook, which has $2 billion in annual sales, it means the company spends more than $20 million each year on non-routine quality issues.
And the frequency of those issues is growing. In an analysis last year, the FDA noted that medical-device recalls nearly doubled from 2003 to 2012.
And in a 2011 report, the FDA found the number of patients seriously injured because of a medical device had nearly quadrupled from 2001 to 2009—growing 8 percent faster every year than that of sales of medical devices.
"Indeed, the risk that a major quality event will cause serious, long-term value destruction is high and rising," wrote McKinsey consultants Ted Fuhr, Katy George and Janice Pai in their report.
The impact can fall particularly hard on Cook, because it makes a plethora of products that serve small numbers of patients. While most medical-device companies have about 400 products in their catalogs, Cook has 15,000.
That's the result of founder Bill Cook's mission to make products that help physicians solve patient problems, whether or not the sales potential looks large. The company secured its first sales in 1963 when Cook took a blow torch with him to a medical conference and bent Teflon tubing into the odd shapes surgeons said they needed for difficult procedures.

Bleyer
Cook's company became a global power, which now employs 12,000 people, by pioneering the use of catheters in minimally invasive surgeries.
"Cook will continue to be willing to step out and help a physician solve a medical problem, even with a small patient population, if we think we can do it," said Mark Bleyer, CEO of the Cook Biotech subsidiary of Cook. "Often, that's done without significant review of costs involved. We just try to help patients."
Another tussle
But litigation costs can quickly make it unsustainable to keep a niche product on the market.
Bleyer oversaw Cook's pelvic-floor-repair products, which faced a bevy of lawsuits until Cook pulled them off the market in 2013 because insurers were no longer paying for their use. The products were designed to help women with stress urinary incontinence or organs pressing against their vaginas after their muscles were weakened by childbirth or surgery.
Similar lawsuits were filed against such companies as Boston Scientific Corp., Johnson & Johnson, C.R. Bard Inc. and others. In May, a jury in Delaware awarded $100 million in damages to a woman who had received a Boston Scientific implant. Eighteen other verdicts have awarded a total of $147 million, according to a tally by Carolyn St. Clair, a Texas attorney involved in the litigation.
Boston Scientific and Johnson & Johnson have also removed some of their pelvic-floor-repair products from the market.
Cook has argued that its Biodesign Surgisis products were fundamentally different from those made by other companies.
"It's not a long-term, forever implant. It's actually just a scaffold that helps the body repair itself. We unfortunately were thrown in with other products, called synthetic nets, that stay in forever," Bleyer said. "I think that's unfortunate because women have needed these repairs. Physicians have had to revert back to older repairs that were not as effective."
Cook has faced no court judgments over its pelvic-floor-repair products. But it is still facing 385 lawsuits, which have been consolidated in federal court in West Virginia.
Bleyer worries that the rise in medical-device litigation will make it harder for Cook and its peers to develop future innovations.
"These mass lawsuits seem to be easier and easier to bring and apparently can be dismissed with no significant consequences after a lot of resource commitment on the part of the company," he said. "It's concerning for us as a company and as a business. And for me as a human being, because I'm going to need some of these products."•
Please enable JavaScript to view this content.