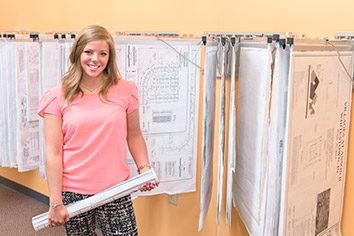 When Lauren Bailey applied for a job with Whitestown government, she couldn't point to the town on a map.
Now working as the town's first director of planning, she's responsible for envisioning what the fastest-growing community in the state could look like in five to 10 years.
The eager Fort Wayne native considers Whitestown her blank canvas.
"You can do anything with that," Bailey said. "It's a pretty daunting task at first, but I was more excited than anything."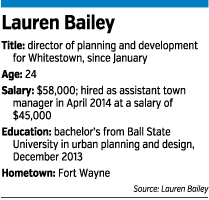 Bailey, 24, might be the youngest planning director in the state. Although the Indiana chapter of the American Planning Association doesn't track such stats, president-elect Josh Desmond said he hasn't heard of anyone younger.
"There are times—I'm going to be honest—where I don't really know what I'm doing," Bailey acknowledged. "I realize I'm really young, but I have enough energy to do it all. So bring it on."
Craig Anderson, vice president and general manager of the 1,700-acre mixed-use Anson development in Whitestown for Duke Realty, said youth can work against you, but not for Bailey.
"She doesn't see any obstacle she can't go through or over or around," Anderson said. "And I think that's refreshing."
Bailey thought she'd be an architect one day.
After a short stint at Manchester University (with 1,500 students, it was "way too tiny" for her), she transferred to Ball State University and enrolled in the College of Architecture and Planning.
She realized architecture wasn't her ideal career, what with the lengthy hours at a drafting desk, so she shifted gears.
"Urban planning just kind of spoke to me," Bailey said. "It's like architecture, but large-scale."
She spent about four months after graduation working part-time jobs and searching for positions as far away as Arizona. Fellow classmates also struggling to find work enrolled in master's programs instead.
It's a route Bailey is glad she didn't take.
"A lot of them are still finishing that up, while I'm doing the job they want," Bailey said. "Here, I just dove right into it. Really, I was thrown into it."
About two out of three urban planners work in local government, earning a median wage of $63,300, according to the U.S. Bureau of Labor Statistics. Bailey's salary for 2015 is $58,000.
Before naming Bailey planning director, Whitestown contracted with Indianapolis-based GRW Engineering for those services. GRW received $680,000 in 2014.
At the beginning of the year, the town moved most of those responsibilities in-house to reduce costs and streamline the project approval process.
Town Manager Dax Norton said Bailey had "no fear in her eye" when officials interviewed her in spring 2014 for the assistant town manager position, with the goal of eventually moving her to town planner. She transitioned to the department-head position Jan. 1; a building inspector is her lone employee.
"She's well exceeded anybody's expectations," Norton said. "If she has the skills and characteristics of a leader, why should she have to sit in a cubicle for 15 years?"
Young and energetic
Bailey can't hide her enthusiasm about Whitestown.
At planning conferences, she chats with anyone she meets about the growing suburb, even if they aren't too interested.
When she sees monthly permit data from other communities, she said, she's proud to see Whitestown's numbers usually "winning".
Her day often starts by 8:30 a.m., with green or black tea, as she reviews plans for remodels, signage, and commercial and residential developments; discusses permit issues; and answers phone calls. She enforces a 12-hour rule upon herself for responding to messages.
Most of her meetings are with individuals older than she is, and she is frequently asked her age and how long she's been with the town.
"It is kind of daunting sitting in a room of older developers, and they don't really want to take you seriously," Bailey said. "Especially being a woman. You just gotta come prepared when you go to these meetings."
When project managers try to bypass her and speak with Norton, they're directed back to Bailey.
"It's humbling to know that everyone has confidence in me," she said.
She tries to find the balance between being strict with requirements and compromising to help get a project off the ground.
"I have that energy to want to help people like that," Bailey said. "I'm not just always going to say no."
Bailey admitted she doesn't live in Whitestown—not yet at least.
As a millennial, she said she enjoys walkable communities with nearby amenities, which is why she instead lives near Keystone at the Crossing in Indianapolis. In her spare time, she travels the Monon Trail, usually on rollerblades.
"People are realizing that driving a car really isn't that cool," Bailey said. "Being on rollerblades is cool."
Big picture, long term
The Farm Heritage Trail is one project she hopes will spark interest from developers and potential new residents. The trail will be more than 60 miles long when complete and will link the Cultural Trail in downtown Indianapolis to Prophetstown State Park just north of Lafayette.
Whitestown's portion of the project will run along the former rail bed and through the "Legacy Core," or old downtown area.
"A lot of people just don't see the potential in the Legacy Core right now," Bailey said. "They just see it as old, rundown buildings. … But there's a lot of unique architecture down there."
The missing connectivity between the commercial Anson development near Interstate 65 and the old downtown district has hindered the town's walkability. Bailey is trying to mesh the two areas as part of the town's new comprehensive plan.
The drafted strategy, which outlines guidelines for the future, includes 10 "community nodes" that would each have a separate identity, like technology sector or arts district.
"You don't want to force it to be something it doesn't want to be," Bailey said.
She collected public input while assistant town manager and is finalizing the report with town administration now.
"She brings a different kind of thinking," Norton said. "We're actually building for the future and that's what she's going to help us do."
The Town Council could adopt the plan in the fall. It hasn't been updated in nearly a decade, so Bailey is eager to see it finished.
With some of the goals on a five- to 10-year time line, she doesn't intend to leave anytime soon.
"Right now, I'm just really interested in getting the experience of a blank canvas," Bailey said. "I'm not going to leave it. It's almost like your baby. It's your project."•
Please enable JavaScript to view this content.