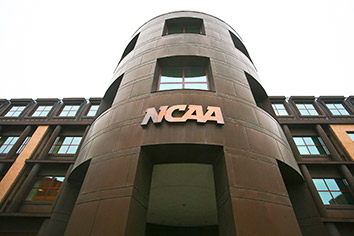 The National Collegiate Athletic Association was ordered to pay $46 million in legal fees and expenses in the Ed O'Bannon lawsuit, which last year resulted in a ruling that called the sports governing body a multibillion-dollar cartel that took advantage of athletes.
U.S. Magistrate Judge Nathanael Cousins cited the "Game of Thrones" series in awarding the fees and costs to the attorneys who represented O'Bannon, the former UCLA basketball player who challenged the NCAA's rule restricting athlete compensation in a 2009 lawsuit. A federal judge in August ruled that college sports' governing body violates antitrust laws by limiting what schools can offer athletes.
The Indianapolis-based NCAA, which said the litigation had a mixed outcome, objected to paying lawyers for unsuccessful claims by the athletes. The organization alluded to the Charles Dickens novel "A Tale of Two Cities" by framing the case as a tale of two lawsuits—part of which went the NCAA's way, part of which went in favor of O'Bannon.
Cousins rejected most of the NCAA's arguments, saying the organization has tried to downplay the results of last year's ruling. He said the "Game of Thrones" series, written by George R.R. Martin and further popularized by a show on HBO, would be a better allusion.
"In Martin's world, 'When you play the game of thrones, you win or you die. There is no middle ground,'" the San Jose, California-based magistrate judge wrote. "For plaintiffs, their trial victory in this adventurous, risky suit, while more than a mere game, is nothing less than a win that warrants attorneys' fees for work spent on all claims—successful or unsuccessful."
The NCAA is appealing last year's ruling. Spokeswoman Stacey Osburn declined in an e-mail to comment on Cousins's decision.
O'Bannon's legal team, led by Washington-based Michael Hausfeld, asked the court in November to award $45.6 million in fees and $5.3 million in additional costs. In addition to arguing the proposed fees were outsized for the mixed outcome, the NCAA contended that O'Bannon's legal team, which comprised 30 firms, was overstaffed.
Cousins trimmed $1.2 million from the fees and $3.8 million from the expenses sought by the O'Bannon lawyers. The NCAA had asked for the lawyer fees and expenses to be reduced to $9.6 million total, according to previous filings.
Since the O'Bannon ruling, the NCAA has restructured its governance, giving its biggest conferences autonomy to make decisions on what they offer athletes. In January, they voted to give schools the option of allowing athletic scholarships that meet the full cost of attendance, stipends that vary from $1,500 to $6,000 depending on the school.
Please enable JavaScript to view this content.