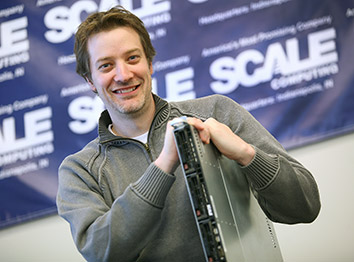 Information technology firm Scale Computing Inc. has raised another $18 million in venture capital that CEO Jeff Ready expects will allow it to hire more employees, potentially move downtown and become profitable.
When the latter benchmark is hit, Ready intends to prepare the firm for an initial public offering, he told IBJ on Wednesday morning. The timeframe would be at least two years out.
"That's certainly where I intend to take things," he said. "The first major step for us is to be profitable and self-sustaining, and I think this round of funding will get us there."
The 8-year-old Indianapolis-based company, which sells box-size IT infrastructure, announced Wednesday that it had closed on the $18 million funding round. Financing was led by Baltimore-based ABS Capital Partners, which contributed about $15 million, Ready said. The balance was from existing investors.
ABS will place two partners on Scale's board of directors.
The company, which currently operates out of 6,000 square feet of leased space in the Purdue Technology Center of Indianapolis, develops an all-in-one technology product that handles server, storage and virtualization needs of clients. The device—about the size of a piece of checked luggage—handles a company's network needs for a single, upfront payment.
The firm currently employs about 70 workers. Ready expects to hire another 15 to 20 employees by the end of the year as Scale ramps up sales to expand its customer base domestically and abroad.
One problem: Scale is packed to the gills in its current headquarters. "I don't know if I could fit anyone else in here," he said.
As an option, the firm now is investigating moving into new offices downtown, which has become an epicenter of area infotech and digital marketing activity. Ready expects the move to happen within 12 months, and that landing downtown would be "highly likely."
Ready declined to reveal Scale's annual revenue but acknowledged that the firm is not yet profitable. "I expect that this round will carry us through profitability and beyond, and that might lead to an opportunity for an IPO," he said.
Prior to this round of funding, Scale had raised nearly $50 million since its founding in 2007. Raising capital in eight-digit chunks puts the firm in rarefied air among young Indianapolis-area infotech firms, which typically raise money in the six- or seven-figure range.
With a total of $63 million in investment raised so far, Scale has not yet approached the fundraising levels of other local tech-related firms that went public. Angie's List raised $119.6 million excluding debt before it went public in 2011. Digital marketing firm ExactTarget, which was acquired by Salesforce in 2013 for $2.5 billion, raised roughly $240 million before its 2012 IPO.
Ready said Scale didn't necessarily need to raise any more venture capital to go public.
"There is always the possibility of raising money right before an IPO as part of that process, but to get from here to there we don't necessarily need more capital," he said.
Please enable JavaScript to view this content.