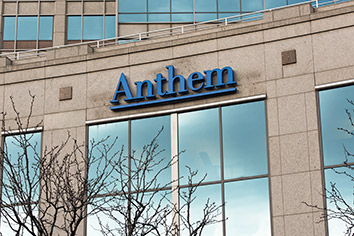 With a $48 billion merger of Anthem Inc. and Cigna Corp. reportedly imminent, investors on Thursday still responded cautiously to the deal.
Cigna shares were bid as high as $158—a 4.5-percent increase over the closing price on Wednesday. But that remains far below the $187 or $188 per share Indianapolis-based Anthem is reportedly offering, according to news reports from Bloomberg, Reuters and The Wall Street Journal. Citing unnamed sources, CNBC reported Thursday that the deal would be officially announced on Friday.
Investors have reacted similarly to another mega-merger, Aetna Inc.'s $34 billion agreement to purchase Humana Inc. That offer is $230 per share, but Humana's stock was still trading for about $185 per share on Thursday.
"I think the stocks are trading this way because of fears of antitrust scrutiny with two mega-mergers on the table," Ana Gupte, a health insurance analyst at Leerink Partners, wrote in an email.
Combined, the two deals would make the nation's five largest health insurers into three. Investors and analysts expect the U.S. Department of Justice as well as the departments of insurance in each state where the companies operate to look closely at the deals.
The regulators could block the mergers altogether, or they could require some of the insurers to divest parts of their businesses.
"In the past, where there's been more than one merger, it makes it much tougher for each individual merger to go through. This sets up a scenario where the [Department of Justice] may well go into court to block both deals," David Balto, an antitrust attorney in Washington, D.C., said during an interview Thursday with Bloomberg News.
In June, Anthem officials said they were not concerned that their merger with Cigna would be tripped up by antitrust issues. However, that was before the Aetna-Humana deal was announced.
Anthem and Connecticut-based Cigna have been in merger talks for about a year. On June 20, Anthem revealed a buyout offer for $184 per share, but said Cigna was rejecting the deal over the future role of its CEO, David Cordani, and the number of seats for Cigna representatives on the combined company's board of directors.
Reuters reported Wednesday that those issues had been resolved, with Cordani taking the No. 2 spot behind Anthem CEO Joe Swedish.
The combined Anthem-Cigna would have more than $116 billion in expected revenue this year and more than 53 million people enrolled in health plans. Industry leader UnitedHealth Group is expected to have more than $154 billion in revenue this year and has 41.6 million people in its health plans.
The Affordable Care Act has boosted insurer revenue but squeezed profit margins, so the companies are trying to merge to achieve economies of scale. They also want to boost negotiating power with hospital systems.
Anthem also wanted to grow its business to have significant numbers in all types of insurance—individual, employer-sponsored, Medicare and Medicaid. That would help it keep customers over a longer period of time.
That's critical because the Affordable Care Act is pushing doctors and hospitals to keep patients healthier so they need less health care. But the investments needed to achieve that goal only save money over many years—requiring health insurers to hold onto their customers for longer than usual.
"We've always said we wanted to participate in a life cycle" with our members, Anthem Chief Financial Officer Wayne DeVeydt told investors after Anthem publicized its buyout offer for Cigna. The two companies together, he said, would have "the largest footprint, or largest catcher's mitt if you will, regardless of where the consumer is at in their life cycle."
Anthem's stock price was flat on Thursday after the news of an imminent deal. At noon, Anthem shares were trading at $154.32 apiece, down by a half a percentage point from their Wednesday closing price.
Please enable JavaScript to view this content.