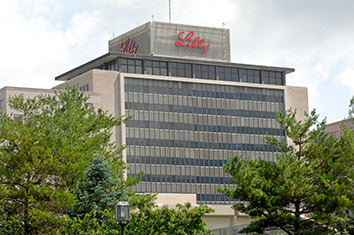 Anthem Inc.'s blockbuster $54 billion acquisition of insurance rival Cigna Corp., announced Friday morning, eclipses every other deal involving a central Indiana company, by a mile.
Here's a look, based on IBJ research, at the top 11 merger and acquisition deals during the last 20 years that will now take their place in line behind Anthem-Cigna:
1. $27 billion. Indianapolis-based Guidant Corp. was acquired by Natick, Massachusetts-based Boston Scientific Corp. in 2007. Spun off from Eli Lilly and Co. in the 1990s, Guidant ended its tenure in Indianapolis with accusations it didn't come clean about defects in the heart defibrillators it manufactured.
2. $16.5 billion. Anthem bought a larger competitor, California-based WellPoint Health Networks Inc., in 2004, creating WellPoint Inc., one of the nation's largest health insurers, and took on its name.
3. $6.5 billion. WellPoint Inc., recently renamed Anthem, acquired New York-based WellChoice Inc., that state's largest health insurer, in 2005.
4.$6.3 billion. Eli Lilly and Co. bought Bridgewater, New Jersey-based ImClone Systems Inc. in 2008. Lilly outbid Bristol-Myers Squibb Co. for the cancer drug developer.
5. $5.8 billion. Carmel-based Conseco Inc., now CNO Financial Group, acquired Green Tree Financial Corp., a Minnesota-based subprime mortgage lender, in 1998. The deal bogged down Conseco profits, and coupled with the 2001 recession, tipped Conseco into bankruptcy in 2002, forcing the ouster of cofounder Steve Hilbert.
6. $5.8 billion. Indianapolis-based Simon Property Group acquired Corporate Property Investors, in 1998. Executives at competing bidder Rouse Co. thought they'd won the contest for the New York City firm but woke one morning to learn Simon reopened negotiations overnight.
7. $5.6 billion. Onex Corp. and Carlyle Group acquired Indianapolis-based Allison Transmission from General Motors in 2007. The private equity firms in 2012 took Allison through an initial public offering, minting a new local headquarters.
8. $5.4 billion. Eli Lilly and Co. acquired Novartis Animal Health from its Swiss parent in January to add to Lilly's Elanco arm in Greenfield. Elanco growth has blunted revenue losses Lilly is sustaining due to patent expirations on popular pharmaceuticals.
9. $4.9 billion. Indianapolis-based WellPoint Inc. acquired Virginia Beach, Virginia-based Amerigroup Corp. in 2012 to grab a bigger piece of the growth market of patients covered by Medicaid, the federal-state health program for low-income people.
10. $4.7 billion. Indianapolis-based WellPoint Inc. sold its NextRx pharmacy benefits management business to St. Louis-based Express Scripts in 2009.
11. $3.7 billion. Carmel–based Adesa Inc. was acquired in 2007 by Kelso, Goldman Sachs Capital Partners, ValueAct Capital and Parthenon Capital to form KAR Auction Services Inc. The private equity firms took KAR private and then launched an IPO two years later.
Note: Acquisition prices are not adjusted for inflation. Click here to see more of IBJ's coverage of the Anthem-Cigna deal.
Please enable JavaScript to view this content.