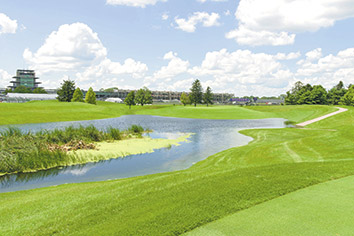 Record June and July rains have flooded local golf courses, sinking rounds played and revenue generated. The season has been so bad, some courses are facing significant financial losses—and perhaps ruin.
Of 26 central Indiana courses surveyed by IBJ, rounds of golf were down 5 percent in June and at least 15 percent in July. Even as waterlogged courses offered golfers discounted greens fees and other lures, revenue declined 10 percent in June and 25 percent in July, according to surveyed courses.
David
Mike David, executive director of the sanctioning body Indiana Golf Office, said those numbers might be conservative.
"If a course is only down 7 [percent] to 15 percent this summer, I'd say they're in the minority," David said. "This is by far the worst weather we've had in the 25 years since I've been here, and there are some courses that are really hurting."
Some operators privately say a shakeout in central Indiana's severely overbuilt market could have a silver lining.
"No one is rooting for any course to close," David said. "But all the facilities here agree there are too many courses. This certainly could have an impact on knocking down the supply, and in the long run help those facilities that do come out of it."
Many local courses bring in about two-thirds of their revenue from May through August. With June and July so rain-soaked, the operators will be struggling to pay their bills come the lean months.
"This winter is where you'll see the biggest impact," said Ryan Ford, director of golf at Pleasant Run Golf Course on the east side and Sarah Shank Golf Course on the south side. "I think there could be some real cash-flow difficulties come later this year and early next year."
Course operators interviewed by IBJ said they'll squeak by, but industry experts said, without a good fall golfing season and a short winter, there could be course closures.
The problem began this spring. While rounds played through May in Illinois, Ohio, Michigan and Wisconsin were all up significantly over a year ago, rounds played in Indiana were down nearly 2 percent, according to Golf Datatech, a Florida-based industry research group.
And the disparity has only worsened since, especially locally.
In June, 8.36 inches of rain fell here, more than four inches above the average, according to the National Weather Service. As of July 22, a whopping 12 inches of rain had fallen this month–7-1/2 inches above the July average. The summer is already the fourth-wettest in the metro area's history, according to the National Weather Service, and another 1.1 inches would move it into second place.
Other parts of the Midwest have been less drenched, even other parts of Indiana. In July so far, Valparaiso and Bloomington have recorded 7 inches less rainfall than Indianapolis.
Shut down for days
Local courses are spending more this year on storm-damage cleanup, including for pumps to drain courses, overtime to scrambling staffers, and unexpected contract work—boosting expenses 5 percent to 15 percent over budget.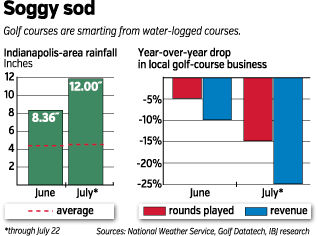 One upside for local operators: Irrigation has been almost completely unnecessary, a five-figure savings for many courses.
Brickyard Crossing Golf Course has been among the hardest hit on two fronts: It lost more than 30 mature trees in one July storm, and four flooded holes were closed for nearly a week. The 18-hole course was closed entirely for several days following a storm in the early morning of July 14.
The green on hole No. 7 was surrounded by water for several days; the sand trap on No. 10 looked like a pond. Some cart paths were submerged.
After the July 14 storm, the course dropped greens fees 30 percent. Many courses have reduced greesn fees $20 to $30 for 18 holes and offered free meals, golf balls and other goodies.
South Grove Golf Course, a municipal course at 1800 W. 18th St., had 12 of its 18 holes closed for more than a week. Golfers were charged $5 to play the short course.
Coffin Golf Course, a municipal course at 2401 Cold Spring Road, was closed more than a week after sustaining flooding and an estimated $40,000 in tree damage.
The number of rounds played at Green Acres Golf Course in Kokomo fell 50 percent in June and July compared with the same period a year ago, according to course operators. The course on the banks of Wildcat Creek had nine of 18 holes closed for 45 consecutive days through June and July due to flooding. Course operators finally got the entire course reopened the third week in July.
The Legends Golf Club in Franklin, The Hawthorns Golf and Country Club in Fishers, Wolf Run Golf Course in Zionsville, Plum Creek Golf Club in Carmel, and Tippecanoe Country Club in Monticello are just some of the courses that have been closed by flooding and storm damage.
"I haven't talked to a single course that hasn't been affected," David said.
Courses on higher elevations and with deep creeks have fared the best, while those with low-banked retention ponds and lowlands and some along shallow-banked rivers and creeks have been the hardest hit.
"We're lucky; we have a creek that runs right through our course, but the banks are high and the creek runs 11 to 12 feet below our fairways," said B.G. Winnings, director of golf at The Trophy Club in Lebanon. "That creek can handle a lot of water, so our course drains really well."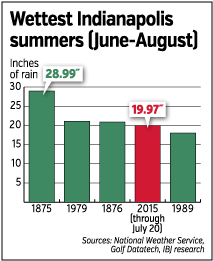 Forecast fears
The weather has been so bad and unpredictable, course operators say just the threat of rain is keeping people away. On July 19—a Sunday, storms were predicted to roll into central Indiana shortly after noon. They never arrived, but it didn't matter, Winnings said, as his course was nearly empty all afternoon.
"When the weather app on your cell phone constantly has a cloud and lightning bolt on it, people stay away," said Doc O'Neal, whose company, Cohoat and O'Neal Management Corp., manages Green Acres along with Wood Wind Golf Club in Westfield and Prairie View Golf Club in Carmel.
And when the clouds part, troubles aren't necessarily over. In addition to cleanup, almost every area course has had at least a dozen days where golf carts must stay on paved cart paths. Driving the carts off the paved paths damages soggy courses; some carts can even get stuck.
"That really hurts us, because a lot of people, especially senior citizens and other people with health issues, like to drive their golf cart off the [paved] path and right up to their ball," said Ford, manager of Pleasant Run and Sarah Shank. "There are other people who just don't want to walk, so if you're cart-path-only, they won't play."
There does seem to be light at the end of this rain-soaked tunnel. The last week of July and early August are forecast to be mostly dry. But many course operators find little comfort in the prediction.
"People who get rained out today don't reschedule two weeks from now. Once you lose a day to weather, you lose it," Winnings said. "You don't get that revenue back."•
Please enable JavaScript to view this content.