A startup not-for-profit has begun returning vacant and tax-delinquent properties to the city's tax rolls, stepping into a void left by the disgraced Indy Land Bank.

Renew Indianapolis supporters hope a transparent sale process and professional management help it avoid the pitfalls of its city-controlled predecessor, which was dismantled in a federal corruption probe.

Since January 2014, the new land bank has sold about 150 vacant homes and lots and has 760 properties in its portfolio. Now that Renew Indianapolis is fully operational, it's seeking to add more to its stock.

Operating on a shoestring annual budget of $200,000 presents challenges, however.

"We've established a really good process, but we still don't have a sustainable financial model for how this will work over the long haul," said Bill Taft, executive director of the Local Initiatives Support Coalition and a Renew Indianapolis board member.

Still, Renew Indianapolis has come a long way since May 2013, when the federal probe led to charges against five men, including two city employees.

Walton
Reggie Walton, the ringleader of the scandal and former manager of the land bank, in March was convicted on eight felony counts including wire fraud and bribery.

Renew Indianapolis Executive Director Katy Brett and just two employees are tasked with turning around the land bank's fortunes.

Brett
"Reggie was a staff of one," Brett, 36, said. "He oversaw all aspects of the program, which doesn't provide accountability or transparency. The goal was to bring some experience in."

More oversight

The land bank has re-emerged in a revamped format that provides more oversight.

Most properties the city purchases have twice gone through tax sales—where the public can purchase properties by paying the amount of taxes owed—without attracting a buyer.

Renew Indianapolis prices the properties no higher than $3,500 and takes a fee of $500 to $1,000 on each sale. The city takes the rest to cover mowing and other expenses related to the upkeep of abandoned properties.

Vacant properties sold through Renew Indianapolis are listed on its website, so the public can see who bought them, Brett said.

The group's oversight doesn't end at the point of sale, however. Buyers are beholden to a signed project agreement in which they list their plans for a property. Renew Indianapolis tries to hold buyers to their agreements as much as possible.

About 60 percent of the buyers are individuals and the remainder investment firms or organizations such as Habitat for Humanity, Brett said. Many of the homes available are in Center Township, with large concentrations on the near-north and near-east sides.

Roughly 150 of the homes in the land bank are slated for demolition—the last option reserved for homes unable to be saved.

"I'm not a demolition fan by any means," Brett said. "I live in an old home, and I see the value they bring to a neighborhood."

One of Brett's biggest assets is the experience she brings to an organization that sorely lacked accountability and transparency. The city no longer manages the program but does have some oversight in its operations.

A review committee provides the first oversight by determining whether applications to buy land bank properties are worth pursuing. Those deemed credible are forwarded to Renew Indianapolis' board for another review and then on to the Department of Metropolitan Development. The Metropolitan Development Commission gives final approval.

"You have multiple people now thinking about these properties differently," said Jeff Roeder, who left the city as DMD's deputy director July 24. "You need more people involved in the process."

A big challenge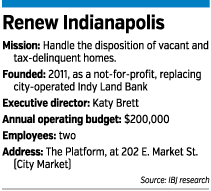 The city launched its original land bank in 2007 after the General Assembly the previous year changed state law to allow it. The program seemed to thrive during the next few years as the number of available properties mushroomed due to the recession.

Perhaps the large inventory made it easier for the corruption to occur.

All told, federal prosecutors charged five men, including another former city employee, John Hawkins, with wire fraud and bribery. Hawkins and two others, Randall K. Sargent and Aaron Reed, reached plea deals with federal prosecutors.

Hawkins, at the direction of Walton, orchestrated the transfer of city-owned real estate to not-for-profit entities, which flipped the properties to private investors recruited by Walton's friend Reed, who split the profits with the two city employees.

David Johnson, executive director of the Indiana Minority AIDS Coalition, will be sentenced July 28 after a jury convicted him in March on five counts including wire fraud and conspiracy to commit money laundering.

Walton was convicted at the same time, but no sentencing is scheduled yet.

The government likely will ask U.S. District Judge William T. Lawrence to sentence Walton and Johnson each to about 10 years in prison.

"It would have been very easy for the mayor or anyone else to say, 'We're not dealing with a federal indictment; we're shutting it down,'" Roeder said.

The city already planned to outsource the land bank's operations even before the indictments came down in May 2013 (Renew hired its executive director two months earlier). But the charges threw a wrench in the plans, stopping land-bank property sales until they finally resumed in early 2014.

Brett, a self-described problem solver looking for a new opportunity, accepted the tall task of leading the revamped land bank program. Nothing, though, could have prepared her for what would come.

"When I took the job, I knew it would be a challenge," she said, "but I didn't know it would be a challenge so quickly."

A native of Bloomfield and Seymour, Brett earned political science and English literature degrees in 2001 from DePauw University. She gleaned experience in neighborhood redevelopment as the first executive director in 2008 of Indy-east Asset Development, now called Near East Area Renewal.

Making Renew Indianapolis as transparent as possible is among her top priorities.

"There tends to be this veil of mystery," Brett said. "What we're trying to do is lift that veil and do good in the neighborhoods."•