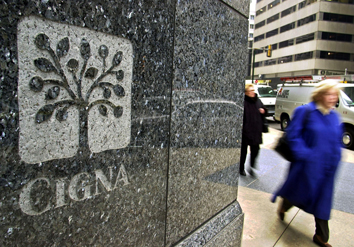 Anthem Inc. announced Friday morning that it will pay $188 per share to acquire Cigna Corp., valuing the deal at $54.2 billion in cash, stock and the assumption of debt.
The merger of the two health insurance giants, which followed a long and stormy courtship, is the largest deal in the history of the industry, and the largest acquisition ever by an Indiana-based company.
After the deal, Anthem said it will remain headquartered in Indianapolis. The company will have more than $115 billion in revenue, will include more than 53 million Americans in its health plans, and will have more than $5 billion in annual profits. The addition of Connecticut-based Cigna's 37,000 employees will boost Anthem's work force to 89,000, including 5,000 in Indiana.
Anthem is paying $48.4 billion in cash and stock and assuming $5.8 billion in debt. The transaction is about twice the size of the largest previous deal involving a local company, Indianapolis-based Guidant Corp.'s $27 billion sale to Massachusetts-based Boston Scientific Corp. in 2007.
"We believe that this transaction will allow us to enhance our competitive position and be better positioned to apply the insights and access of a broad network and dedicated local presence to the health care challenges of the increasingly diverse markets, membership, and communities we serve," Anthem CEO Joe Swedish said in a prepared statement.
Swedish will be chairman and CEO of the combined company. Cigna CEO David Cordani will be president and chief operating officer. Cordani also will be one of five Cigna representatives on the combined company's board of directors, with nine seats going to Anthem representatives.
"The complementary nature of our businesses will allow us to leverage the deep global health care knowledge, local market talent, and expertise of both organizations to ensure that consumers have access to affordable and personalized solutions across diverse life and health stages and position us for sustained success," Cordani said in a prepared statement.
The acquisition, which had been percolating nearly a year, extends a wave of consolidation sweeping over the health-insurance industry. Aetna Inc. said it agreed to buy Humana Inc. for $35 billion earlier this month, a day after Centene Corp. said it struck a deal to acquire Health Net Inc. for $6.3 billion. President Barack Obama's 2010 health-care overhaul is helping drive the mergers, in part by imposing tougher rules and limits on the industry's profits.
Anthem and Cigna said they expect their deal to take a year to close, as they seek regulatory approval from federal and state authorities, as well as from Cigna shareholders. Investors and analysts expect antitrust authorities to closely scrutinize the deal.
Anthem will pay $103.40 in cash for each share of Cigna's stock, and issue approximately a half share of Anthem stock for each Cigna share.
This story will be updated. Click here for IBJ's full coverage of the Anthem-Cigna deal.
 
Please enable JavaScript to view this content.