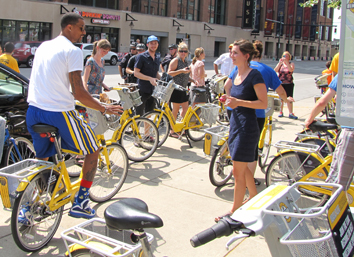 Pedestrians in downtown Indianapolis this weekend can become bicyclists for no charge, as a global technology firm sponsors free rides through the Indiana Pacers Bikeshare program.
On Saturday and Sunday, UST Global will provide free access to the bikeshare program, which operates from 26 rental stations primarily along the Indianapolis Cultural Trail.
The weekend freebies are meant to kick off a campaign in which UST challenges the Indianapolis community to burn 1 million calories by using the bikeshare program in the month of August, called the One Million Calories Campaign. UST will track usage data and present findings once the month is completed.
Bike rides this weekend will be free for the first half hour. Afterward, regular bikeshare usage fees will apply.
Based in Aliso Viejo, California, UST Global operates in the U.S., India, Mexico, Spain, Malaysia, Philippines, Singapore and United Kingdom. It provides technology services to Global 1000 companies and focuses on design, cybersecurity, mobile, social, analytics and cloud services.
UST is focusing on applying its services to the health care sector and wants to make more headway in the Indianapolis market, according to spokeswoman Meagan Ostrowski.
The company declined to reveal the cost of its partnership with Indianapolis Cultural Trail Inc., which runs the bikeshare program.
 
Please enable JavaScript to view this content.