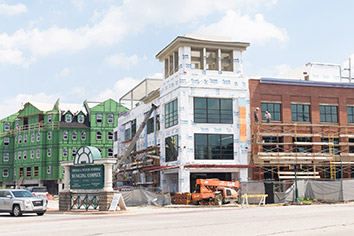 For businesses looking for small offices, Fishers is practically booked up.
The demand for office spaces of 5,000 square feet to 10,000 square feet has ramped up recently in the fast-growing suburb, but supply hasn't kept pace.
Developers are moving to alleviate the crunch, and city officials are playing a role by freeing up publicly owned land downtown, preparing to offer tax incentives, and even doing a bit of matchmaking to find businesses new office space.

Fadness
"I have no other office buildings in downtown Fishers for these companies," Mayor Scott Fadness said. "It's a good problem to have that demand, but we want to meet that demand."
City officials and real estate experts say a slowdown in office development from the Great Recession is one reason the city's inventory is low.
Yet during that same period, Fishers has become home to a growing number of entrepreneurial companies. Fadness pointed to the success of the city's co-working space, Launch Fishers, which quickly exceeded expectations when it attracted more than 500 members in two years.

Dick
"A lot of people are excited about what's going on in Fishers," said Paul Dick, senior vice president of Indiana office services at the Colliers International brokerage.
Fishers' office vacancy rate is higher than that of surrounding areas, at 34.2 percent, according to the DTZ real estate firm, but most of that vacant space is split between two buildings.
Two Concourse at Crosspoint, developed by Edgeworth Laskey Properties LLC west of Interstate 69, has 133,000 square feet of available office space. Also, the former Charles Schwab & Co. regional client center on Visionary Way has close to 114,000 square feet available.
Fadness said if those two structures are ignored, the vacancy rate is about 4 percent.
According to CBRE Group Inc., 29 properties in Fishers provide office space, but only eight offer space in the 5,000-to-10,000-square-foot range. In contrast, Carmel has 54 office properties, and 29 offer 5,000-to-10,000-square-foot space.
Anderson Schoenrock, CEO of media digitizing company Memory Ventures, said when the company moved from California to Fishers, it signed a short-term lease to buy time to find a permanent spot.
"Coming from Los Angeles, where many submarkets are tight on inventory, I expected to have a lot more options here, but that was not the case," Schoenrock said in an email. "I think that speaks to the success and growth of Fishers and the surrounding areas."
Schoenrock committed to staying in Fishers, which left him with only a couple of choices for a facility with a traditional small office and warehouse space. He recently landed a place with a 4,500-square-foot office and 9,000-square-foot warehouse at the Concourse at Crosspoint.
Fadness said speculative office developments have been difficult to attract without guaranteeing tenants beforehand, so the city is trying to find users for potential new buildings.
City officials have been talking with Sunbeam Development Corp., he said, which controls the Exit Five Parkway just east of I-69. More than 330 acres of land owned by Sunbeam are still undeveloped.

Dickey
Tom Dickey, managing director of real estate for Indianapolis-based Hageman Group, said some officials would have preferred Sunbeam move faster on projects, but he thinks patience will pay off because the city only recently defined its vision as "the entrepreneurial city."
"I think it will be a positive thing that it hasn't developed yet," Dickey said.
Dick, who markets office space at Exit Five Parkway for Colliers, said Sunbeam has been in a position to be selective in choosing tenants, preferring larger companies such as Comcast Corp.
The type of office space in demand is also changing. Businesses are looking for open floor plans instead of cubicles and private offices.
"There are more community collaboration areas," Dick said. "There's more teamwork."
The problem with that, according to Fadness, is it can increase the number of parking spots per building. A modern office with 20,000 square feet needs space for about seven cars for every 1,000 square feet. That's 140 parking spots for one office.
Fadness said the parking need is a balancing act because the city doesn't want to be overrun with parking garages and the infrastructure is expensive to build and maintain.
"So, we've got some work to do," he said.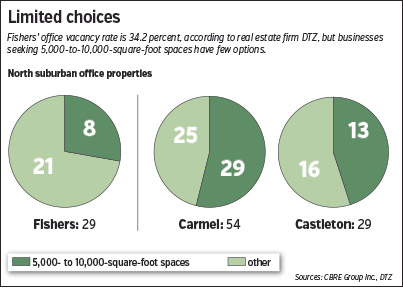 Office developers aren't struggling to attract businesses.
The $28 million Switch development in downtown Fishers, still under construction, has already secured tenants for its second and third floors.
The Purdue College of Pharmacy's Center for Medication Safety Advancement and the Purdue Manufacturing Extension Partnership will share the second floor. And CloudOne will move its headquarters to the third floor from North Meridian Street near 91st Street.
The 40,000-square-foot Meyer Najem headquarters on Lantern Road near 116th Street has been full since it opened in January. The city subleases the 17,500-square-foot second floor to mobile app developer Bluebridge Digital, city employee health-clinic operator QuadMed and, until recently, Memory Ventures.
The Fishers Redevelopment Commission approved terminating the lease with Memory Ventures on July 27, but officials aren't concerned.
"I don't think it will stay empty very long," commission President Wayne Crane said at the July 27 meeting.
In addition to The Switch, another three-story multi-use building is being constructed on the corner of Lantern Road and 116th Street. The Edge will house medical offices for Community Health Network with additional space for retail, office and restaurants. A 330-space parking garage is also part of the $17.5 million project.
"There are some smaller office components in there," said Dickey, the Hageman executive. "I think that's an opportunity."
Dickey, who previously served as Fishers' director of community development, also said he expects a half-acre site poised for redevelopment on Lantern Road to include small office space. The city's request for proposals recommended that projects have a two- or three-story building with a minimum footprint of 8,000 square feet.
"There are developers who are certainly taking notice of what's going on," Dickey said.
Dick, with Colliers, said he has prospective tenants for every available unit at Exit Five Parkway, including a possible headquarters for an undisclosed technology company.
To help spur interest in Concourse at Crosspoint, the Fishers City Council recently established an economic revitalization zone around the property—the first step needed to approve tax abatements.
"If anything, it just sends a message to the market that we're serious about doing something," Fadness said.
Officials also say the proposed I-69 interchange at 106th Street will spur interest in adding office buildings on both sides of the highway because of the easier access.
"From a development-momentum perspective, the timing is going to be really good," Dickey said.•
Please enable JavaScript to view this content.