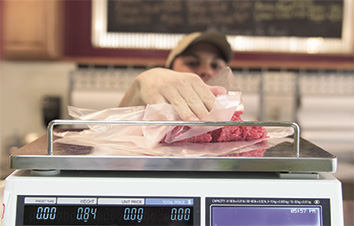 When Moody Meats CEO Adam Moody needed to raise cash to open a new shop, he chose an unorthodox technique: crowdfunding. It was an approach that, until last year, simply wasn't available to Hoosier businesses.
The company was one of the first—and so far, few—to try this novel option. Regulations that went into effect July 1, 2014, allow Indiana businesses to solicit capital from rank-and-file Hoosiers in increments of $5,000 or less per investor. The main stipulation: Both the business and the investor(s) must be Indiana-based.
Taking advantage of it required a bit of bookkeeping finesse for the locally sourced specialty butcher shop with five central Indiana locations. The company wanted to use crowdfunding to finance a new Center Grove location, but the financial-disclosure rules are not too different from those for seeking traditional investment. And Moody's is very much a private company.
So, instead of opening the books on his entire operation, which encompasses a family farm and a meat processing facility, Moody created a new firm called Moody Retail Shops that included only the then-notional Center Grove store and two other locations.
"Retail is an easy investible for customers and people who live around our locations," Moody said. "They're much more exciting than buying into a processing facility."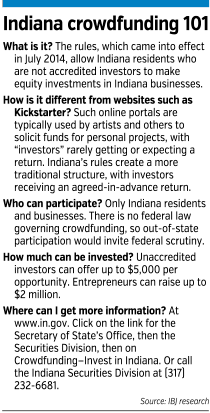 He said 22 investors (including a handful of "traditional" accredited investors who chipped in more than the $5,000 crowd-funding limit) contributed $220,000, all of which went to the Center Grove store. Under the terms of the deal, they get back 1-1/2 times what they put in, with funds taken from that store's sales. The variable is how long the payback takes.
"It's a matter of how fast I can do that, which determines your interest rate," Moody said. "If it takes one year, they're going to be tickled. If it takes me 10 years, it's not going to be that big of a deal."
Moody doesn't think crowdfunding is the wave of the future for his particular company, but the technique is a hot trend among state regulators. When Indiana put its rules into effect last year, it was only the third state to offer such a program, after Michigan and Wisconsin. But today, 23 states have jumped aboard.
Unlike websites such as Kickstarter, which usually don't offer a return on the money companies and individuals contribute, Indiana's crowdfunding law is done with the expectation that investors get paid.
All crowdfunding offers are conducted through three state-sanctioned website operators. They help clients put together offerings and post a pitch online.
"It allows you to do a general solicitation to unaccredited investors," said Indiana Securities Commissioner Alex Glass. "Me and you and probably a lot of other people who are not multimillionaires. As long as I'm an Indiana resident, I can go to one of these website operators, type in my information, prove who I am, and I can go and invest up to $5,000 in anything I want."
But the number of in-state businesses actually trying crowdfunding has been small. So far, only six Hoosier firms have taken the plunge.
The law also has some teething problems. For instance, if the state wants to know how much a particular company raises via crowdfunding, it's out of luck unless the firm volunteers the information. Because (for the moment) there's no reporting rule.
A bigger concern has been making sure transactions remain entirely confined to Indiana businesses and residents. If they don't, that could trigger interest from the federal government, which has no laws enabling this sort of crowdfunding.
A few kinks
Determining what sort of information can be offered online and controlling who gets it is vital but tricky. For instance, businesses can't aggressively market their offerings online because they can be accessed not just out of state but out of country. According to the letter of the law, all they're supposed to do is refer potential investors to their intermediaries' secure website.
That particular stricture was a big deal for Scott Wise, president and CEO of Pots & Pans Production, the parent firm for Scotty's Brewhouse restaurants and Three Wise Men Brewery. His was one of the first eateries to avail itself of the new cash-raising technique.
"It was kind of a social experiment," said Wise, who describes himself as an incurable early adopter.
The company's 96th Street location needed updating, and crowdfunding seemed like a good way to raise cash. In exchange for buying in, participants get a projected 8-percent return, paid out over five years. The cash is taken from the 96th Street location's sales volume—which means the speed of the payout (and the deal's profitability) depends on how well the store does.
The offering raised almost $400,000. Wise made sure that only revenue from the 96th Street location would be used to service the debt.
"I didn't want to open up my books and show everybody every little nook and cranny of my business," he said.
He said 2,000 to 3,000 people perused the data, which was made available on a website created by the locally based intermediary Localstake. Of those, about 150 actually opened their wallets.
"Some of them might have been serious investors who just decided they didn't want to do it," he said. "Others probably were just picking around, seeing what kinds of sales volumes we were doing."
Intermediary required
Localstake was already working in the small and private investment category when the new regulations came along.

Smith
"The changes in the laws have benefitted us significantly," said Localstake cofounder Brandon Smith.
Localstake helps clients adhere to the rules, assembles the necessary offering documents, and handles regulatory filings with the state. The collected funds are held in an escrow account with a third-party bank.
Localstake's first (and so far only) crowdfunding client was Scotty's. Smith said it's a near-ideal template for the sort of business that might benefit from crowdfunding. The company has an established track record, lots of loyal customers, a strong social presence from which to draw potential investors, and operations confined (for the moment) entirely to Indiana.
But for businesses or startups that lack the profile necessary to attract meaningful amounts of cash in $5,000 (or less) increments, it might not. That might be one reason interest in the new investment vehicle has been less than overwhelming.
"I think it's still a little bit under the radar," Smith said.

Klimek
Indianapolis-based securities law attorney James A. Klimek said it might remain there.
"Certainly, we all like the idea of facilitating capital formation for small and emerging Indiana businesses," Klimek said. "I just don't think crowdfunding laws are an effective way to do it."
The rub, he said, is that it's difficult for small firms to make the sorts of dis-closures they must provide to potential investors. Yet those disclosures are vital because anyone who's laying out a maximum of $5,000 is likely a novice investor who needs all the data he or she can get.
"One of my concerns is that the disclosure guidelines are pretty sketchy, which means there's going to be a tendency to do the minimum disclosure," Klimek said.
He's also concerned about the way small-time backers get paid, and its effects on newborn businesses. Instead of being able to plow revenue back into operations, a crowdfunded startup must shell out the money to stakeholders.
"If you take a percentage of the money right off the top, that's that much money that the company doesn't have to work with," Klimek said. "You're sort of taking capital out from under the feet of the company."
Still, while only a handful of operations have so far tried crowdsourcing, no one's giving up on the process yet. Web intermediaries such as Localstake think that, as businesses grow more familiar with the process, making a public offering could become easier. And for those who need cash but can't get a bank to listen to them, crowdsourcing could be a godsend.
"I'm a skeptic, but the jury's still out on this," Klimek said. "I've been wrong before and I'd be happy if, in 18 months, a bunch of new businesses are thriving and everybody's making money."•
Please enable JavaScript to view this content.