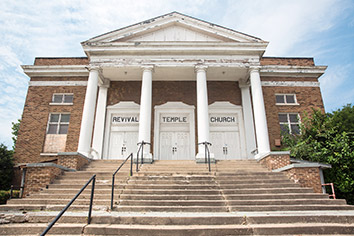 Van Rooy Properties plans to convert the historic Phillips Temple into market-rate apartments as part of $3.5 million-plus project that also calls for constructing a new building on an adjacent lot to the west.
Indianapolis Public Schools accepted the local apartment developer's bid of $122,500 for the dilapidated African-American landmark and adjoining property on Dr. Martin Luther King Jr. Street downtown as part of a strategy to shed ownership of holdings beyond functioning schools.
Including the Phillips Temple, IPS has accepted offers on three of six properties it put up for bid in June. IPS preferred Van Rooy's offer for Phillips Temple, 1226 Dr. Martin Luther King Jr. St., even though it fell well short of the $400,000 bid from Insight Development Corp., the development arm of the Indianapolis Housing Agency.
Insight's offer to purchase the property and build affordable housing units, however, hinged upon federal tax credits for financing, said Abbe Hohmann, who is coordinating the sale of the buildings for IPS.
The next round of tax credits won't be administered by the Indiana Housing and Community Development Authority until March. The temple is in such poor shape that IPS decided it couldn't wait that long, she said.
"That building is not in very good shape, so my recommendation was that we really don't want to keep that building over the winter," said Hohmann, president of Site Strategies Advisory LLC. "And getting the tax credits isn't even a sure thing."
Van Rooy's proposal to IPS says the firm will invest more than $3.5 million to refurbish the temple. The work will include replacing the roof and windows, resurfacing parking, adding landscaping, signage and lighting, and restoring the dome on the roof.
The temple would feature 18 one- and two-bedroom units on three levels along with the new building's 24 units.
It's doubtful a project on the site could make sense economically for a developer without constructing another apartment building, said Russ Seiler, Van Rooy's vice president of finance and development.
"The conversion and adaptive reuse of this structure is very expensive," he said. "We need to add those additional units to make a single site work."
Seiler declined to estimate what Van Rooy's total investment in the project might be.
The company still needs to get the property rezoned and design plans approved by the Regional Center Hearing Examiner. Because the site is within the Regional Center overlay district, the project needs to comply with Regional Center Urban Design guidelines.
Van Rooy hopes to have the project finished within a year, Seiler said.
"Part of our urgency is that the building has major roof problems," he said. "It's an old structure, and we've had a ton of rain over the last eight months."
The vacant Phillips Temple has sat in limbo in recent years while avoiding on-and-off-again efforts from IPS to demolish it in favor of parking for Crispus Attucks Medical Magnet High School to the south.
As recently as February, the school district sought city approval to raze the building, which was built in 1924 as an African-American church boasting a seating capacity of 1,500. But the request was continued in hopes of finding a buyer.
Van Rooy knows the area well. The firm in the past four years has completed more than $16 million in projects on downtown's northwest side, including a $2.5 million renovation of Ransom Apartments at 1352 Dr. Martin Luther King Jr. St. and a $5.4 million makeover of Campus Apartments at 735 W. 11th St.
Both complexes have been converted from affordable to market-rate housing.
IPS, meanwhile, has selected buyers for two other properties besides the temple
TWG Development LLC has agreed to pay $500,000 for the School 21 building at 2815 English Ave. on the southeast side, and Milhaus Development LLC  agreed to pay $1.1 million for the Center for Instructional Radio and Television at 931 Fletcher Ave. in Fountain Square.
IPS is rebidding two buildings—School 78 at 3734 E. Vermont St. and School 20 at 1849 E. Pleasant Run Parkway South Drive. They either did not receive a bid or the bids failed to meet specifications. IPS has not made a decision on School 97 at 1401 E. 10th St. on the Arsenal Technical High School campus, which is only available to lease and not to purchase.
In addition to the six properties, IPS on Friday put on the market its 11-acre bus-maintenance facility and operations center on Massachusetts Avenue.
 
Please enable JavaScript to view this content.