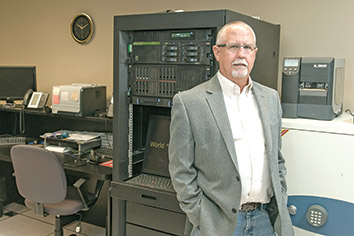 Aurora Parts & Accessories
Vice President of Information Technology
"As a kid, I was known as the one who could do just about any math problem in my head," said Geary Richard, who grew up wanting to be an accountant. After a few courses in Fortran and Cobol at Purdue University, though, he migrated to what was then called "data processing." At the time, that involved stacks of punch cards instead of keystrokes.
Now, as chief technology officer at Lebanon-based Aurora Parts & Accessories, the largest distributor of aftermarket service parts for heavy-duty trailers in North America, Richard has helped revolutionize his business. Aurora's innovations include a graphical bill of materials, or GBOM; and FleetPerform, a national service management program.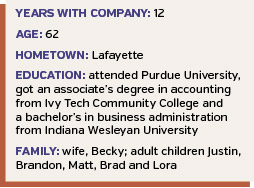 Other projects include development of a warehouse-management program that enhanced the process of picking parts for shipment, with a Tote Tracking process about to go online that will track parts from shelf to customer. He's implemented a new CRM system, expanded an electronic data interchange system, implemented a sales-tax automation process, and converted the company's phone systems to voice over IP.
When he started with the company in 2003, annual net sales were in the $75 million range. Projections for 2015 are up 250 percent. Gross profit margin has risen from 14 percent in 2003 to 18 percent today. And the company has gone from about 20 percent of orders online to nearly 80 percent.
Richard believes strongly in incorporating information from his end users—the dealers. He creates webinars for all new developments and applications and is a frequent speaker at annual meetings of the dealer-advisory group, giving participants a first look at technological developments. That might mean a dealer estimator tool for pricing parts or an e-flier program to make it easier for Aurora dealers to create advertising fliers.
Tech is also key at the dealer meetings, which occur every 18 months. Whether it's through formal meetings or time on the golf course, Richard and his team use these gatherings to interact with dealers. He makes it a point to give each dealer his phone number with an invitation to call anytime.
That connection with those beyond the IT walls extends to Richard's strategy for building his team. He emphasizes integrated training, making sure new IT employees know the entire company. "When someone joins us here, we put them through four weeks of working with various departments—two weeks actually out on the warehouse floor helping pick and put away products," Richard said. "The other two weeks are between accounting, sales, customer service, purchasing, etc. That way they see what every department is doing, get a sense of those processes. Then they fulfill their roles with a better understanding of what the company is."
"I'm looking for common sense, number one," Richard said. "Number two: Do they seem to have business acumen? And number three: Are they self-motivated?"•
Check out more CTO honorees..
Please enable JavaScript to view this content.