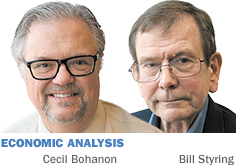 The most recent Report of the Social Security Administration reveals it spent $84 billion more than it collected in tax revenue in 2014.
The deficit was covered from interest earned on federal government bonds in the Social Security Trust Fund. The report also projects that, in 2020, interest earnings will not be enough to cover Social Security's deficit, so the SSTF's balance will begin to decline.
It is expected the balance will be zero sometime in 2034.
From an accounting perspective, the meltdown day for Social Security is still 19 years away. From an economic perspective, it has already occurred.
To see why, consider George and Susan. George makes $50K after taxes and Susan makes $100K, for a combined household income of $150K. The couple loves exotic travel and always goes first class. They have agreed that George's earnings will be directed toward travel and Susan's toward household spending (aka everything else). Finally, assume they have no savings and never borrow.
In Year 1, they spend $30K on vacations and $120K on everything else. They actually write out on a slip of paper, "The household fund owes the travel fund $20K" and put it in the cookie jar. In Year 2, they spend $70K on an exotic vacation. In Year 2, the couple must reduce household spending to $80K. The $20K IOU in the cookie jar isn't worth a thing, nor is it relevant to anything except "inside the household" record-keeping.
This is exactly the situation of the SSTF. The Social Security system ran surpluses until 2010. But where were those surplus funds "invested?" In federal government bonds. What did the federal government do with those funds? It spent them on then-current government programs and gave the SSTF an IOU to put in a cookie jar in West Virginia (actually a filing cabinet).
Since 2010, the Social Security system has been adding to overall federal debt, whereas, before 2010, it offset it. U.S. government bonds owned by the Social Security administration are simply an accounting fiction irrelevant to the overall credit position of the U.S. government.
True enough, the accounting fiction ensures that in 2034 something must be done. But it is rather obvious that every year the current state of affairs continues, the financial situation of the U.S. government and the prospects for the U.S. economy will slowly deteriorate. The meltdown is occurring as we speak.•
__________
Bohanon is a professor of economics at Ball State University. Styring is an economist and independent researcher. Both also blog at INforefront.com. Send comments to ibjedit@ibj.com.
Please enable JavaScript to view this content.