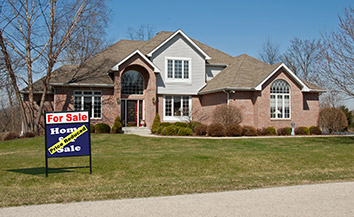 Home-sale agreements in central Indiana fell 4.5 percent in July, marking the fourth time in five months that deals have decreased on a year-over-year basis, according to a report released Friday by real estate agency F.C. Tucker Co.
Pending sales of existing homes in the nine-county area dipped to 2,602 in July—a decline of 123 houses over July 2014. Four of the nine central Indiana counties included in the report saw a reduction in sales.
While the recent trend is downward, sales agreements are still up for the year, thanks mostly to strong sales in January and February. More than 19,000 pended home sales took place in the first seven months of the year, up 8.9 percent from the same period of 2014.
Sales agreements ticked up 1.1 percent in July in Marion County, to 1,072 homes, and are up 12.2 percent year-to-date compared with the same seven months of 2014.
Deals plummeted 15.8 percent in Hamilton County in July, to 554, but are up 5.9 percent year-to-date.
Hendricks County saw a whopping 18.5-percent decrease in July transactions, to 225.
Madison County deals were up 3.3 percent, to 127, and Hancock County sales rose 28 percent, to 127.
Johnson County sales were basically flat, at 264; Boone County deals rose 3.7 percent, to 112; and Morgan County transactions dropped 15 percent, to 77.
Shelby County saw 44 home-sale agreements in July, down from 48 in July 2014.
The area's shrinking home inventory helped drive up average prices. There were 11,233 available homes on the central Indiana market in July, a 9.2-percent decline from a year ago.
Year-to-date sales prices for the area were up 5.3 percent compared with the same seven months of 2014, to $185,529. Boone County had the highest average price, at $281,172, followed by Hamilton at $277,230.
The average sales price in Marion County during the first seven months of the year was $147,015, up 7.5 percent from the same period of 2014.
"We're seeing the best July in the last five years in terms of sale prices, which have increased more than $34,000 on average,"  F.C. Tucker Co. President Jim Litten said in written comments. "Meanwhile, the number of available homes on the market is the lowest we've experienced in five years—all pointing to a more balanced, stable market that tends to benefit sellers."
Only one deal was made in the area in July for a house priced at $2 million or more. Eight houses priced at more than $1 million changed hands, and 66 were priced between $500,000 and $1 million.
 
Please enable JavaScript to view this content.