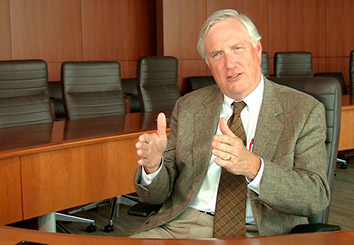 Indiana University Health President and CEO Daniel Evans Jr. announced plans Tuesday to retire next spring. The hospital system will elevate Executive Vice President Dennis Murphy to replace him.
Evans has served 13 years as the system's leader. During that time, IU Health has expanded from three hospitals in downtown Indianapolis to a statewide system of nearly 20 hospitals and health centers. Combined, those locations serve more than 2.5 million patients annually.
IU Health officials said Evans will leave his role as president immediately but continue to serve as the system's CEO until May 1. Murphy will take over now as president and become CEO next spring. Murphy will continue to serve as the hospital system's chief operating officer until a successor is named.
Murphy joined IU Health in 2013 as its executive vice president and COO after serving in a similar role at Northwestern Memorial HealthCare in Chicago.
Being CEO of IU Health's Methodist Hospital was Evans' dream job, he said on many occasions. His great-great-grandfather was a delegate at an 1899 convention of Methodists in Indianapolis that had money left over—which the Methodist Church used to create Methodist Hospital.
Evans' father, Dan Evans Sr., was a board member of Methodist for a time in the 1960s.
And Evans, a longtime lawyer at Baker & Daniels, served for many years on the board of directors, helping to spearhead the merger with the Indiana University hospitals in 1996 that created Clarian Health. Clarian was renamed IU Health in January 2011.
"I've got the best job in Indiana, by far," said Evans, 66, Tuesday at a press conference at the IU Health Neuroscience Center on West 16th Street. "I'm standing one block from where I was born."
Evans certainly left his mark on Methodist and IU Health. Just before the merger that formed Clarian, Methodist employed fewer than 4,500 full-time equivalent workers and had revenue from patients of less than $226 million.
In 2014, IU Health employed more than 28,000 full-time equivalent employees and had revenue from patients of nearly $5.6 billion.
He engineered mergers with hospitals in Bedford, Bloomington, Goshen, LaPorte, Martinsville, Monticello and Tipton, as well as with Ball Memorial Hospital in Muncie. He spurred IU Health to build new hospitals in Avon, Carmel, Fishers and Lafayette, as well as the IU Health Simon Cancer Center in Indianapolis.
Evans drew criticism from many quarters, too, saying he escalated a hospital arms race that made Indianapolis a poster child for overbuilding by hospitals and drove up hospital prices to levels far higher than peer cities.
More recently, IU Health has been in cost-cutting mode, with Evans declaring in 2013 that the hospital industry "has been inefficient." The system is trying to trim $1 billion in annual operating expenses over a five-year period.
But even as it tries to consolidate two hospitals—Methodist and University—IU Health plans to spend $1 billion to build out significant new facilities on the Methodist campus to accommodate patients and clinicians currently served by both campuses.
Murphy, 51, was recruited to IU Health with the idea that he would eventually replace Evans. Before his time at Northwestern Memorial, Murphy held leadership positions at the University of Chicago hospital system and at Johns Hopkins Hospital.  
"Dennis has tremendous career experience from other healthcare systems and has a history of delivering impactful results," said Anne Nobles, chair of the IU Health board of directors, in a prepared statement. "At IU Health, he has built a reputation for collaboration and, in a time of ferocious industry change, he is leading major system operational improvements so IU Health can meet the needs of our patients and the communities we serve."
Murphy said he would carry on Evans' vision for IU Health, trying to make it deliver top-quality patient care, do cutting-edge research, traing new doctors and nurses, and improve the health of Indiana.
"It's why I came to IU Health, really, because I believe in Dan," Murphy said.
Please enable JavaScript to view this content.